Achievable GRE Review [Is Achievable Worth it?]
8 Min Read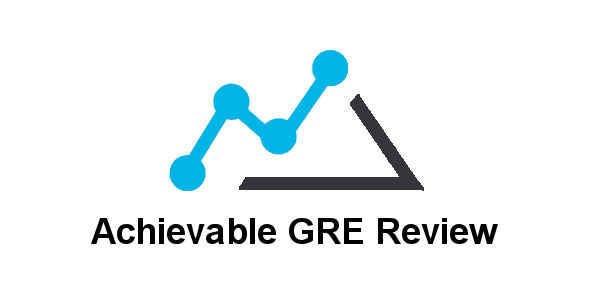 Achieving success on the GRE boosts a participant's likelihood of finding admission to graduate school, which has a long-term influence on their career progression. Since your executive reasoning acts as the CEO of your brain, the GRE test makers want to examine how effectively that CEO works in data analysis, problem-solving, and critical thinking. As one of the top GRE courses, Achievable GRE prep can help you conquer everything that gets between you and your success.
Achievable is an exam preparation organization that has consistently provided dependable services for the Graduate Record Examination (GRE). They provide on-site interactive style training, individual GRE coaching, and GRE practice tests to assist the students in achieving the highest possible GRE results. They have offered GRE prep to students from a wide range of educational and cultural backgrounds, and their membership is more diversified than those of any of their opponents.
Moreover, before being selected, prospective GRE teachers and instructors are extensively verified for qualifications and personal appropriateness for GRE instruction at Achievable. They clearly seek good standardized exam results, but unlike many other firms, they also consider a variety of additional aspects. One of these elements is an intellectual experience, and the majority of the teachers have graduate degrees in GRE-relevant disciplines from highly recognized colleges. Professional achievement is also an essential factor in their employment processes, and the instructors have grown into acknowledged experts in their industries.
Besides, the capacity to prioritize information that Achievable offered to you and organize it in ways that allow you to problem-solve quickly is essential for GRE success.
Pros of Achievable GRE Course
Advanced Personalized GRE Study Plan
The precise amount of research time required for ideal GRE results affects people differently. Still, all candidates must gain firm mastery of the exam, which usually takes three months of severe GRE preparation. Unless you had the opportunity of added hours, five-six months would be even better. The most essential thing is to create and follow a planned study plan.
Achievable used special adaptive learning techniques which utilized a personalized model of your memory, to individually track your mastery of each GRE learning objective. The achievable learning system monitors your GRE study progress and continually adjusts your quiz questions to ensure you're focusing on the most important topics, improving the overall GRE study effectiveness and efficiency.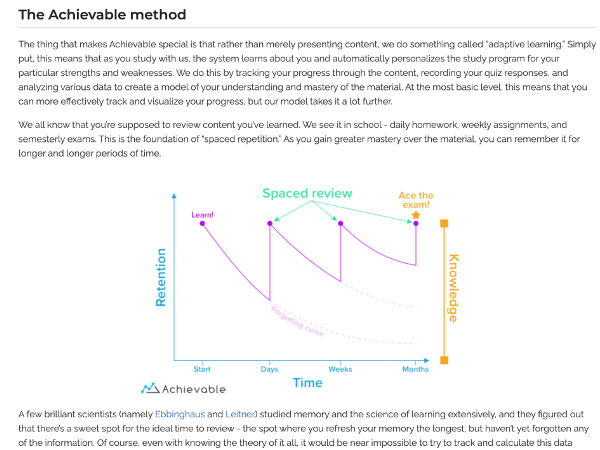 Suitable Study Material
Investing in the correct GRE books and study tools is one way to get a head start on your GRE preparation. There are several books, video libraries, and study resources accessible both online and offline for GRE exam preparation when you are associated with Achievable GRE course. Therefore, Achievable GRE is hands down the best test review service you will ever use!
Nevertheless, you should choose these resources carefully in order to get the most out of your practice. Achievable GRE course advocates using up-to-date books and study resources to help you practice the most recent test edition. Official practice material examinations are also significant because they are authentic and allow you to assess your abilities.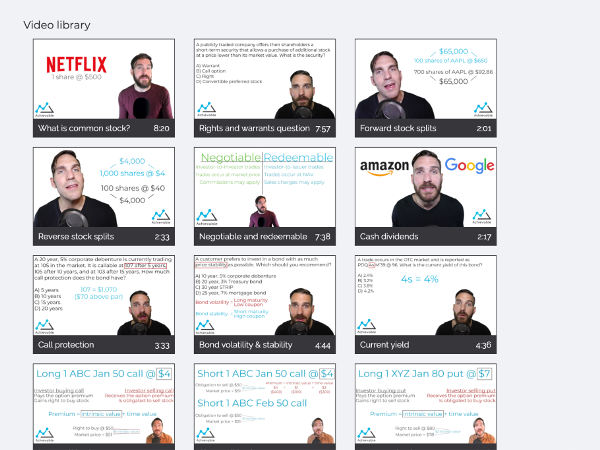 Practice Tests and Unlimited Quant Practice Questions
One of the most significant impediments to taking the GRE is tension. While each component may be feasible on its own, completing the entire exam in one session is equivalent to going for a run. With the help of Achievable GRE practice tests and questions, you are always be equipped and ensure that you work out, relax, and increase your monthly GRE mileage over a few months.
Conducting Achievable GRE practice examinations can also assist you in learning how to regulate yourself. These will serve as helpful benchmark signposts, and performing practice tests is an excellent approach to improve examination tolerance. They also generate millions of unique artificial intelligence scored quizzes with randomized text and variables and provide a step-by-step walkthrough of the math and logic involved in these questions. Undoubtedly, performing the complete GRE will help you understand the exam's mental and physical challenges, allowing you to eventually work through the entire test confidently and successfully.
Achievable GRE course will ensure you take the practice examinations under settings that are as near to a genuine GRE administration as feasible, which make your brain to become used to taking the test in realistic environments.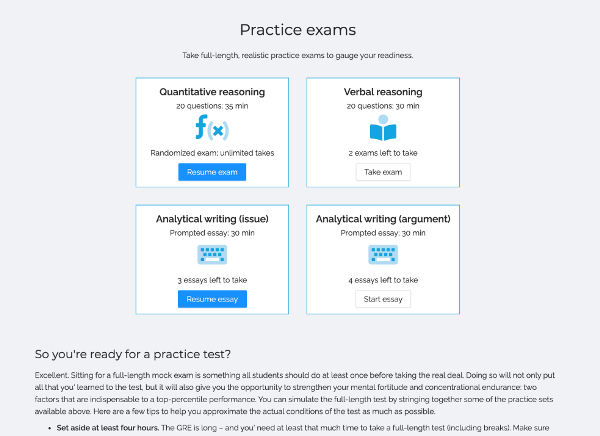 Identified GRE Prep Weaknesses
The sections of the GRE that you find the most difficult are likely to be the ones that you despise the most. If you're a mathematical genius who despises verbose writing on esoteric subjects, you'll probably find paddling over opaque text to be comparable to wading through a swamp. People who find numbers and exponential characteristics tiresome, on the other hand, frequently have to battle tooth and nail to get through arithmetic ideas.
Hence, understanding your shortcomings and how to improve them will help you create a reasonable learning plan. Whatever it takes to complete your study strategy so that you may reduce your harmful shortcomings. It may be inconvenient at first, but it will become less so over time. Therefore, Achievable GRE course brings you the study resources that enhance your abilities and knowledge rather than simple tasks for you in areas where you are comfortable.
The idea is to force oneself to focus under the most challenging conditions by working through stuff that you find heavy and inflexible.
A Full Year of GRE Course Access
Compare to other GRE prep courses, Achievable offers a full year of courses access, which is an excellent option for a lot of GRE candidates, even if there is only a couple of months left to prepare for GRE.
A full year access provided by Achievable gives more flexibility when it comes to your prep timing, especially when you change plans of GRE prep. Moreover, since many graduate programs only count your highest GRE score, it is wise to give yourself enough time to take the GRE exam multiple times to achieve the best score using the Achievable 12-month course access.
Guarantee of Score Improvement
Like most online GRE prep companies offers a GRE score improvement guarantee, Achievable GRE course also offer one. However, in contrast to other test prep companies, Achievable will give you a full refund, if you can't increase you total GRE score by at least 7 points by submission of your previous validate GRE score within the first 7 days of purchasing Achievable GRE. In addition to the score improvement guarantee, Achievable offer an unconditional 7-day money back guarantee which makes you more confident purchasing the course.
Cons of Achievable GRE course
New Brand of GRE prep
Compare to the Magoosh and Princeton Review, Achievable is a relative new brand in GRE prep industry. However, the drawback of course operation experience can be overcome by the experienced content experts of the Achievable course.
No Live classes or video lessons
By far, neither live classes nor video lessons are offered by Achievable GRE course. This might be difficult for some people who are used to utilize video or animations for understanding and memorizing concepts. However, Achievable provides an interactive 89-chapter digital textbook that has illustrations to help you understanding of GRE concepts. Indeed, you have to read more, but you will memorize more in the end.
Bottom Line
In conclusion, Achievable GRE preparation course will make you more intelligent and much more adaptive. The Achievable strategies for enhancing your GRE study habits are ageless and clear in perspective. With the excessive prep materials and the state-of-art GRE prep techniques provided by Achievable, you will be able to put your complete effort into attaining ideal GRE results if you find a dedicated study environment where you can focus without distraction.
Share on: