Alpha Score LSAT Course Review - Is Alpha Score Worth it?
    13 Min Read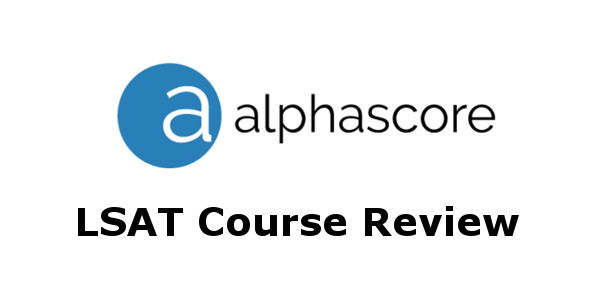 Alphascore was founded in 2003 by Greg Smith, making the company is relatively new compared to competitors, but it has made a positive name and reputation for itself in the market of LSAT prep. Alphascore's prep courses come in a few different plans, but the company is focused around providing real LSAT questions for practice, high-quality video lessons covering all topics on the LSAT, and one-on-one help via a personal LSAT instructor for all students. Alphascore manages to offer a comprehensive, supportive review in a self-paced, easily accessible program. See how Alphascore Lsat is compared to Blueprint LSAT Prep.
Course Options and Pricing
Free Trial
Before making any purchase or commitment with Alphascore, students can try out some of their services with a one-month free trial period. The free trial does not give a complete look at all of Alphascores services and materials, but allows access to three video lessons and tutorials, one official LSAT exam, and 125 practice questions.
These materials are a good way to get a feel for the teaching style and practice questions that will make up a significant component of prep with Alphascore. What the free trial does not give access to is practice quizzes and assignments, in-depth explanations, and the assistance of a personal instructor which is a main component of Alphascore's course.
Complete LSAT Course
The complete LSAT course is the most popular choice for students who decide to prep for the LSAT with Alphascore. The complete course comes at an affordable price and with a manageable, but very thorough package of test prep materials.
The course includes 50 video lessons and tutorials that walk students through all of the topics in Alphascore's curriculum. The complete course also includes 10 official LSAT exams to be used as practice exams, over 1000 practice questions with answer explanations, practice quizzes, and assignments to get students applying the material and testing their knowledge. Along with those materials, students are assigned a personal LSAT instructor for individual support and guidance throughout prepping for the LSAT.
For $389 students who purchase the complete course get a full year of access to all the included materials and services. Under $400 for a year of LSAT prep is a very competitive price point. This course has less materials than the premium option, but that may make it a better fit for some students. If you are looking for a general overview, the you can complete this course and return to any areas of need for review and extra studying. The larger package may be overwhelming if you do not have defined areas of need and know how to prioritize what you are getting through. If you are short on study time this package is likely the best option, as you may not have time to complete the extra work you would be paying for in the premium course.
Premium LSAT Course
Alphascore's premium LSAT course offers all the same features as the complete course, but in higher quantities which gives students more chances for practice and variety in their studying.
The premium LSAT course offers the same 50 video lessons and tutorials, 61 official LSAT exams to use as practice exams, over 6000 practice questions with answer explanations, practice quizzes, and assignments. A wider variety in practice questions offers students more chances to work over their weak areas with new material. A personal LSAT instructor is assigned to all students who sign up for the premium course to help them manage the bigger load and answer any questions along the way.
The premium LSAT course comes at a price of $789 for a full year of access to all materials and services, still less than most competitors, even prep courses that last less than a year. The abundance of materials within the same time frame allows students more practice overall and specifically in areas they feel it is needed. This course is great for students who want to focus heavily on certain topics or skills and need sufficient practice material in those areas to do so. This course is also well-suited for students who have plenty of study time to take full advantage of all the extra materials.
By Test Section
An addition option for students is to purchase just one section of review. The materials will all be a bit unique depending on the section you purchase and what materials Alphascore uses to teach that section. This is a great option for retesters who know exactly where they need extra help and where they can go without a complete, comprehensive review.
Curriculum
Alphascore has a full, comprehensive curriculum that touches on everything the LSAT will expect you to know. Each section of the LSAT is addressed including logical reasoning, reading comprehension, and logic games. Alphascore breaks these sections down into specific topics to be covered in their lessons. A full list of topics that the Alphascore curriculum covers can be found on their website.
The videos that Alphascore uses to teach the curriculum are high-quality lecture style videos taught by the founder Greg Smith. Smith uses a combination of lecture and visual aids to teach the material. Students have the option to speed up or slow down videos while watching, which can be a really useful feature. If you are watching a video back or looking for a specific section, you can speed up the video to make for a faster, but still digestible play through. Slowing down the videos is a great option for those students who follow along with notes or are working through problems with the video.
The lessons are entirely online, so anywhere you have internet access, you can access your Alphascore review material. Alphascore can be accessed on a desktop, tablet, or mobile device. The Alphascore program will keep track of where you are in your material so picking up on a new device is not confusing or disorienting. This a great for busy students who may want to squeeze in study time wherever they can!
Practice
A great feature of Alphascore is that the use Official LSAT exams for practice tests and questions. Alphascore uses LSAT exams from past years to supply exam practice that is spot on to what students will see on their exam day. Often with prep courses students question how effective and realistic to the LSAT their practice questions and exams are, here that is no concern. Even in the small course package, the pool of real LSAT questions will surely keep you busy and give you a clear idea of what you will be tackling on your exam day.
For all questions Alphascore supplies in-depth answer explanations of both right and wrong answers. The explanations aim to help students understand why something is correct or incorrect in order to understand both the material and how to think about the type of test questions on the LSAT.
All of the practice with Alphascore is self-paced. There are no set practice exam dates or times, but Alphascore does offer study plans online that students can follow or base their own plan off of. Students can go through the practice material in the pace that best suits their studying and works with their schedule. However, Alphascore does offer an online LSAT virtual proctor to time practice exams. This provides students with valuable information about their time management and simulates the experience of LSAT exam day.
LSAT Instructors
Perhaps the most impressive feature offered by Alphascore is a personal LSAT instructor for every student. This adds an element of personalized support and tuned-in, professional attention most online prep courses do not offer. The assistance of a personal instructor is a great way to give students their independence in self-paced study, while also being highly supportive where it is needed.
All Alphasocre LSAT instructors are highly qualified, with five years of LSAT teaching experience being the minimum required. The role of personal instructors is to work with students on questions that are challenging by providing in-depth explanations and step-by-step ways of working through them. Through instructors, Alphascore students not only get clear, knowledgeable breakdowns of material, but test taking strategies. The instructors break down questions in ways to help students understand how to best approach and think about them.
Pros of Alphascore:
1. Affordable Price
Alphascore offers a full curriculum, official LSAT practice exams and questions, and the help of an LSAT instructor for a full-year, and all at a price that is significantly less than most competitors.
2. Real LSAT Questions
You can not beat questions that come straight off of real LSAT exams themselves. Alphascore uses real LSAT test questions to prepare students with a realistic idea of test question diction and format. All practice directly translates to what you will need while taking the exam.
3. Personalized Help from an LSAT Instructor
Students may doubt their chances of success with an online course because they feel too on their own and like they may get a bit lost. Alphascore understands this and came up with an effective way to address the concern. A personalized tutor for every student means you will be working with someone who does not just know the test and material but also knows you. Working with your instructor over time allows for an understanding of where you struggle and what you need in response. Your instructor will provide that extra level of depth and reassurance wherever you find yourself stuck. This make self-paced prep less intimidating without taking away any of the freedom or flexibility.
4. Easy Access Anywhere with Internet
Students are busy people and LSAT prep often has to compete with other important, time-consuming responsibilities. By making their program easy to access on any device Alphascore makes their prep much more flexible to the busy life on students. Whether you are working a slow shift at a work-study job, home for the weekend and left your laptop at school, or just want to take studying to your favorite coffee place Alphascore brings LSAT prep wherever you have a device and internet access.
Cons of Alphascore:
1. Only One Instructor
All of the video lessons are taught by Greg Smith, who most students agree does a great job. However, if you find you do not favor his teaching style, it is central to the entire course.
2. No Guarantee or Statistics to Back Up the Program
Many prep courses will boast of high rates of score increases or their students making up a large part of high test-score percentiles, but Alphascore does not give any insight to where their students landed after the course. Besides testimonials, which Alphascore does have on their website, there is no concrete evidence to build credibility. Likewise, Alphascore does not make any sort of minimum score increase guarantee or direct claims.
3. Reading Comprehension Does Not Include Videos
The reading comprehension section of Alphascore's course does not use any of the videos that are, otherwise, a major component to teaching the curriculum. This may make the reading comprehension section less engaging. Also, the switch in mode of learning may be unfavorable for those who enjoy consistency and routine throughout their studying.
4. Online Only Instruction
Alphascore does not offer any in-person instruction. All students prepping through Alphascore do so online with only the help of their instructor. This is a positive to people who prefer self-paced, independent courses, but limits the type of students who will find this course to be a good fit.
Bottom Line
Alphacore's prep courses are thoughtfully constructed to make an online LSAT prep that performs well for students. Not only does Alphascore have a thorough curriculum, real LSAT based practice, and highly qualified instructors, but they also address common problems faced by students. Alphascore made their program affordable, easily accessible online, and offers both personalized support and self-paced learning. Alphascore offers a small variety of course options for different students to find the right fit, but ultimately, is for students who want an online, self-paced prep. If you are on the fence about a more independent prep, or Alphascore in general, it is recommended to give the free trial a shot.
Share on: