Best 5 AP Biology Review Books [2022-2023 Edition]
11 Min Read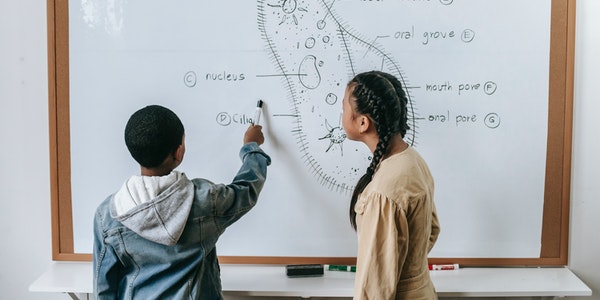 TheBestDegree.com is a participant in the Amazon Services LLC Associates Program. We independently research, review and recommend the best products. We may receive commissions on qualifying purchases made from our chosen links to maintain the quality of the website with no extra cost to you.
AP Biology is an introductory college-level biology course. Students cultivate their understanding of biology through inquiry-based investigations as they explore topics like cells & cellular Reactions, genetics, molecular biology and evolution.
Scoring well on the AP exams is essential to earn placement credits and admission into a competitive college, which will position students for a successful professional future. Studying for the AP Biology exam can be challenging and overwhelming, so we have curated a list of the top 5 AP Biology Study Guides in 2022-2023.
The Top 5 AP Biology Prep Books 2022-2023
Sterling Test Prep has a stellar 20-year reputation for preparing students for standardized tests. This book, AP Biology Review, provides a thorough review of all topics tested on the AP Biology 2022 exam. The content covers the foundational principles and theories necessary to answer test questions.
Biology instructors with years of teaching experience prepared this material by analyzing the AP Biology exam content and developing preparation material that builds the knowledge and skills crucial for success on the test. Sterling Test Prep editors are experts on preparing students for standardized tests and have coached thousands of undergraduate and graduate school applicants on test preparation and admission strategies.
The review content is clearly presented and systematically organized to provide students with a targeted preparation for AP Biology. Utilizing this study guide, students learn the scientific foundations and details of essential biology topics needed to answer exam questions. By reading review chapters thoroughly, students review important biological concepts and the relationships between them. Read more user reviews at Amazon.
Pros:
Guarantees a higher score on the AP Biology exam or your money back
Logically organized information, with concept reviews and practice questions
Easy-to-understand language
Cons:
Some errors in information and grammar reported
Not all sections are updated for the new exam format
AP Biology Exam Premium Prep 2022 by Princeton Review is one of the top-selling study guides on the market. With 7 total practice exams, accompanied by detailed answer explanations, as well as content review chapters full of practice drills, AP Biology Exam Premium Prep 2022 is the most highly-recommended study guide on this list.
The experts at The Princeton Review have been helping students, parents, and educators achieve the best results on standardized tests for more than 40 years. Like all study guides by The Princeton Review, AP Biology Exam Premium Prep 2022 includes proven techniques to help students avoid common pitfalls and increasing effective studying. Read more user reviews at Amazon.
Pros:
Highest rated AP Biology study guide on this list
A vast number of practice questions and explanations
Updated for the new test format and question types
Includes 2 online practice tests, as well as extra practice questions
Cons:
Covers information that goes beyond the College Board test requirements
Some technical difficulties reported with the online material
This popular study aid supports Campbell Biology, 11th Edition, and is designed to help structure and organize developing knowledge of biology and create a personal understanding of the topics covered in the text. While allowing for a unique approach and focusing on the enjoyment of learning, the guide also shares a list of common strategies used by successful students as revealed through educational research.
The Student Study Guide provides concept maps, chapter summaries, word roots, and a variety of interactive activities including multiple-choice, short-answer essay, art labeling, and graph-interpretation questions. This study guide can be used in studying for the AP Biology exam and serves to bring a conceptual framework to the study of biology.
This Biology study guide includes several key aspects that deem it a worthy study guide. Framework sections help the student form an overall picture of the material presented in each chapter while Chapter Reviews synthesize all the major biological concepts presented in Campbell BIOLOGY, 11th Edition. Interactive Questions require the student to work with figures and problems and word roots help the student learn and remember key biological terms. Structure Your Knowledge sections ask you to link concepts by completing concept maps, filling in tables, labeling diagrams, and writing essays. Additionally, there are practice questions and thorough explanations of answers to assist with knowledge retention. Read more user reviews at Amazon.
Pros:
Sample quizzes and responses at the end of each section
A condensed version of the textbook and a great tool to get a quick refresher before the AP Biology exam
Requires students to fill in charts and diagrams to help summarize topics
Cons:
Numerous "trick" questions and few explanations to practice quizzes
Users reported that there are not many helpful problems that can be found
Most expensive study guide on this list
Barron's AP Biology Review Book, complete with online tests, provides realistic practice exams and in-depth content review aligned with the current AP Biology curriculum. This study guide is backed by the 80-year reputation Barron's carries on its shoulders.
This AP Biology study guide provides students with six total full-length practice exams, accompanied by in-depth explanations. Unlike other study guides on this list, Barron's AP Biology Review Book includes three diagnostic tests to help students better target their studies.
In addition to concept review, Barron's AP Biology Review Book aims to give students study tips and test-taking strategies to help students apply the skills they learn in class. Read more user reviews at Amazon.
Pros:
Offers 3 practice exams in the book and 3 online
3 diagnostic exams to help students target their study efforts
Barron's has 80 years of experience helping students conquer standardized tests
Written in easy-to-read language for both the weak and strong Biology students
Includes test-taking tips specific for the AP Biology exam
Cons:
Users have reported there are many topics included that are no longer on the test
Errors and technical issues reported with the online practice tests
The purpose of this AP Biology exam study guide is to provide students with a quick-review in order to assist students to make the most of their study time. This review guide is designed to help students retain the most information in the least amount of time.
Crash Course: AP Biology is based on an in-depth analysis of the latest AP Biology course and exam description, as well as sample AP test questions released by the College Board. It covers only the information tested on the exam, so students can make the most of valuable study time.
Written by Michael D'Alessio, an award-winning Biology professor, and test development expert, the book gives students the topics and critical context that will matter most on exam day. Crash Course: AP Biology relies on extensive analysis of the test's structure and content and is recommended for the time-crunched student, last-minute studier, or anyone who wants a refresher on the subject. Read more user reviews at Amazon.
Pros:
Mini practice exam in the book as well as a full-length online exam
Includes expert test-taking strategies
Numerous practice questions to help build confidence
Written in clear, concise language
Cons:
No in-depth explanations
Not recommended for independent study
Some mistakes reported in conceptual information
Frequently Asked Questions
What are some of the career paths available to me if I enjoy Biology?
If you're unsure of what to do with your bachelor's degree in biology, you're not alone. Students are usually aware that teaching, as well as working in a laboratory setting, are options, but these not-so-obvious paths may be appealing as well.
A bachelor of science in biology opens up a broad array of potential career paths. Among the first things to consider for anyone studying biology is whether they want to use the undergraduate degree to enter a professional field directly, or as a foundation for advanced study leading to a graduate degree.
Biological Technician: $45,000/year
Biochemist: $95,000/year
Health Communications Specialist: $56,000/year
Biology Teacher: $33,000/year
Pharmaceutical Sales: $75,500/year
Agricultural and Food Scientist: $41,000/year
Microbiologist: $66,000/year
Environmental Scientist: $52,000/year
Wildlife Biologist: $46,000/year
Science Writer: $70,000/year
Conservation Scientist: $57,000/year
Medical Equipment Sales: $93,000/year
You shouldn't rule out positions just because of the job title. Even a position that may seem mundane on the surface could have a lot of engaging duties. Focus your job search on keywords that match the area you want to work in and the skills you're interested in using, rather than focusing on a particular job title.
It's worth taking on a job that doesn't quite match your end goal because you never know what other opportunities may exist with a particular employer. Further, you have no idea how many different jobs are inside that company until you get your foot in the door.
How is Biology at work in my daily life?
On Earth, biology pervades the surface and spaces underground as well. Humans in particular harness biology for every aspect of life. Here is a list of areas where Biology is at work in your daily life:
Food and Beverages
Clothing and Textiles
Beauty and Personal Care
Transportation and Leisure
Buildings
Fuels
Healthcare and Medicine
People rely on living things and their products for the food they eat, their homes, their personal care, their fuel, and their medicines.
Not Prep for AP Biology? Read Reviews of Other College Entry Test Prep Books
Share on: