Best 5 AP Chemistry Review Books
    10 Min Read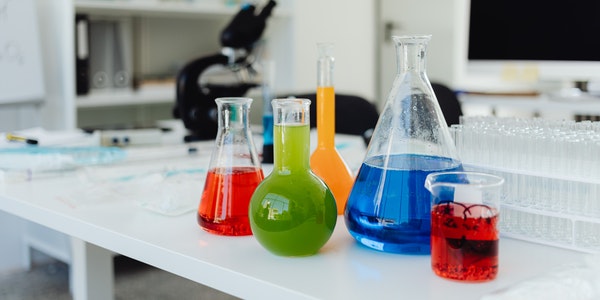 TheBestDegree.com is a participant in the Amazon Associates Program, Magoosh, and other affilate programs. We independently research, review and recommend the best products. We may receive commissions on qualifying purchases made from our chosen links to maintain the quality of the website with no extra cost to you.
AP Chemistry is an introductory college-level chemistry course. Students cultivate their understanding of chemistry through inquiry-based lab investigations as they explore the four "Big Ideas": scale, proportion, and quantity; structure and properties of substances; transformations; and energy.
Scoring well on the AP exams is essential to earn placement credits and admission into a competitive college, which will position students for a successful professional future. Studying for the AP Chemistry exam can be challenging and overwhelming, so we have curated a list of the top 5 AP Chemistry Study Guides in.
The Top 5 AP Chemistry Prep Books
1. AP Chemistry Premium Prep by Princeton Review
AP Chemistry Premium Prep by Princeton Review is one of the top-selling study guides on the market. With 7 total practice exams, accompanied by detailed answer explanations, as well as content review chapters full of practice drills, AP Chemistry Premium Prep is the most highly-recommended study guide on this list.
The experts at The Princeton Review have been helping students, parents, and educators achieve the best results on standardized tests since 1981. Like all study guides by The Princeton Review, AP Chemistry Premium Prep includes proven techniques to help students avoid common pitfalls and increasing effective studying.
Pros:
Highest rated AP Chemistry study guide on this list
A vast number of practice questions and explanations
Updated for the new test format and question types
Includes 2 online practice tests, as well as extra practice questions
Cons:
Covers information that goes beyond the College Board test requirements
Some technical difficulties reported with the online material
2. 5 Steps to a 5: AP Chemistry Elite Edition
5 Steps to a 5: AP Chemistry by John Moore and Richard Langley is a cross-platform prep course, designed to assist AP students in their studies for the AP Chemistry exam. Authors John Moore and Richard Langley are both AP Chemistry teachers and adequately understand the challenges and struggles students face when preparing for the exam.
This AP Chemistry study guide contains 3 full-length practice exams (available both in the book and online) that reflect the most up-to-date exam. Unlike any of the study guides on this list, this prep course includes a "5 Minutes to a 5" section— a 5-minute activity for each day of the school year that reinforces the most important concepts covered in class.
In an attempt to adequately prepare students for the exam, 5 Steps to a 5: AP Chemistry provides access to a robust online platform and a comprehensive overview of the updated AP Chemistry exam. Additionally, there is a self-guided study plan, including flashcards, games, and online resources.
Pros:
Several resources available with the purchase of this AP Chemistry study guide
Content matches that of the most-up-to-date-exam
Hundreds of practice exercises with thorough answer explanations
Includes proven strategies specific to each section of the test
Cons:
Some technical difficulties reported with the online material
3. Sterling Test Prep AP Chemistry Review
Sterling Test Prep has a stellar 20-year reputation for preparing students for standardized tests. This book, AP Chemistry Review, provides a thorough review of all topics tested on the AP Chemistry exam. The content covers the foundational principles and theories necessary to answer test questions.
Chemistry instructors with years of teaching experience prepared this material by analyzing the AP Chemistry exam content and developing preparation material that builds the knowledge and skills crucial for success on the test. Sterling Test Prep editors are experts on preparing students for standardized tests and have coached thousands of undergraduate and graduate school applicants on test preparation and admission strategies.
The review content is clearly presented and systematically organized to provide students with a targeted preparation for AP Chemistry. Utilizing this study guide, students learn the scientific foundations and details of essential chemistry topics needed to answer exam questions. By reading review chapters thoroughly, students review important chemistry concepts and the relationships between them.
Pros:
Guarantees a higher score on the AP Chemistry exam or your money back
Logically organized information, with concept reviews and practice questions
Easy-to-understand language
Cons:
Some errors in information and grammar reported
Not all sections are updated for the new exam format
4. Barron's AP Chemistry Review Book
Barron's AP Chemistry Review Book, complete with online tests, provides realistic practice exams and in-depth content review aligned with the current AP Chemistry curriculum. This study guide is backed by the 80-year reputation Barron's carries on its shoulders.
This AP Chemistry study guide provides students with six total full-length practice exams, accompanied by in-depth explanations. Unlike other study guides on this list, Barron's AP Chemistry Review Book includes three diagnostic tests to help students better target their studies.
In addition to concept review, Barron's AP Chemistry Review Book aims to give students study tips and test-taking strategies to help students apply the skills they learn in class.
Pros:
Offers 3 practice exams in the book and 3 online
3 diagnostic exams to help students target their study efforts
Barron's has 80 years of experience helping students conquer standardized tests
Written in easy-to-read language for both the weak and strong Chemistry students
Includes test-taking tips specific for the AP Chemistry exam
Cons:
Users have reported there are many topics included that are no longer on the test
Errors and technical issues reported with the online practice tests
5. AP Chemistry Crash Course, Book Online
The purpose of this AP Chemistry exam study guide is to provide students with a quick-review in order to assist students to make the most of their study time. This review guide is designed to help students retain the most information in the least amount of time.
Crash Course: AP Chemistry is based on an in-depth analysis of the latest AP Chemistry course and exam description, as well as sample AP test questions released by the College Board. It covers only the information tested on the exam, so students can make the most of valuable study time.
Written by Adrian Dingle, an award-winning AP Chemistry teacher, and test development expert, the book gives students the topics and critical context that will matter most on exam day. Crash Course: AP Chemistry relies on extensive analysis of the test's structure and content and is recommended for the time-crunched student, last-minute studier, or anyone who wants a refreshed on the subject.
Pros:
Mini practice exam in the book as well as a full-length online exam
Includes expert test-taking strategies
Numerous practice questions to help build confidence
Written in clear, concise language
Cons:
No in-depth explanations
Not recommended for independent study
Some mistakes reported in conceptual information
Frequently Asked Questions
What is AP Chemistry Exam?
The AP Chemistry Exam assesses student understanding of the science practices and learning objectives outlined in the course framework. The exam is 3 hours and 15 minutes long and includes 60 multiple-choice questions and 7 free-response questions. A scientific or a graphing calculator is recommended for use on Section II of the exam. No calculators are permitted for use on Section I. Students are provided with the periodic table and a formula sheet that lists specific and relevant formulas for use on the exam.
What are some of the career paths available to me if I enjoy Chemistry?
If you're unsure of what to do with your bachelor's degree in chemistry, you're not alone. Students are usually aware that teaching, as well as working in a laboratory setting, are options, but these not-so-obvious paths may be appealing as well.
Applications or Development Scientist: $71,365/year
Patent Examiner: $124,675/year
Science Writer: $70,000/ year
Environmental Health & Safety Officer: $63,000/year
Chemist (in your favorite industry): $83,850/year
You shouldn't rule out positions just because of the job title. Even a position that may seem mundane on the surface could have a lot of engaging duties. Focus your job search on keywords that match the area you want to work in and the skills you're interested in using, rather than focusing on a particular job title.
It's worth taking on a job that doesn't quite match your end goal because you never know what other opportunities may exist with a particular employer. Further, you have no idea how many different jobs are inside that company until you get your foot in the door.
How is Chemistry at work in my daily life?
There are many examples of chemistry in daily life, showing how prevalent and important it is.
Digestion relies on chemical reactions between food and acids and enzymes to break down molecules into nutrients the body can absorb and use. Soaps and detergents act as emulsifiers to surround dirt and grime so it can be washed away from clothing, dishes, and our bodies. Cooking is a chemical change that alters food to make it more palatable, kill dangerous microorganisms, and make it more digestible. The heat of cooking may denature proteins, promote chemical reactions between ingredients, carmelize sugars, etc.
Medicines are the best example of how chemistry is at work in our everyday lives. Drugs work because of chemistry. The chemical compounds may fit into the binding site for natural chemicals in our body (e.g., block pain receptors) or may attack chemicals found in pathogens, but not human cells (e.g., antibiotics).
Not Prep for AP Chemistry? Read Reviews of Other College Entry Test Prep Books
Share on: