AP Physics 1 Review Books
    11 Min Read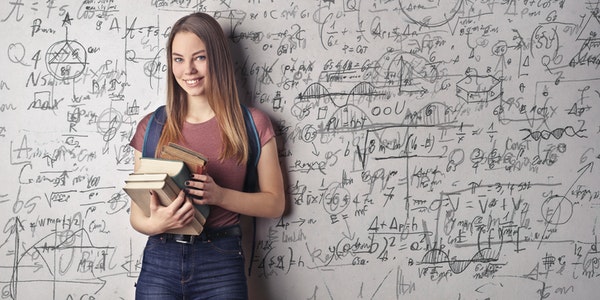 TheBestDegree.com is a participant in the Amazon Associates Program, Magoosh, and other affiliate programs. We independently research, review and recommend the best products. We may receive commissions on qualifying purchases made from our chosen links to maintain the quality of the website with no extra cost to you.
AP Physics 1 is an algebra-based, introductory college-level physics course. The AP Physics 1 Exam assesses student application of the science practices and understanding of the learning objectives outlined in the course framework. The exam is 3 hours long and includes 50 multiple-choice questions and 5 free-response questions. The 5 free-response questions may appear in any order on the AP Exam. A four-function, scientific, or graphing calculator is allowed on both sections of the exam.
Scoring well on the AP exams is essential to earn placement credits and admission into a competitive college, which will position students for a successful professional future. Studying for the AP Physics 1 exam can be challenging and overwhelming, so we have curated a list of the best AP Physics 1 Study Guides in 2023.
The Top 5 AP Physics 1 study guide 2023
AP Physics 1 Premium Prep is a comprehensive study guide for one of the most challenging AP exams out there. With 2 complete practice exams, thorough content reviews, and targeted exam strategies, this Princeton Review study guide aims to help students ace the AP Physics 1 exam.
Along with study review, AP Physics 1 Premium Prep offers online resources to assist with information retention and study habits. This study guide is also backed by the stellar reputation of the Princeton Review.
The experts at The Princeton Review have been helping students, parents, and educators achieve the best results at every stage of the education process since 1981. The Princeton Review has helped millions succeed on standardized tests, and provides expert advice and instruction to help parents, teachers, students, and schools navigate the complexities of school admission.
Pros:
Created by The Princeton Review, which has 40 years of success preparing students for standardized tests
Includes 2 full-length practice exams and targeted exam strategies
Chapters are broken down into clearly-written, in-depth explanations, followed by practice questions.
Cons:
Technical issues reported with the online resources
Some errors reported on the practice exams
5 Steps to a 5: AP Physics 1 is the most updated version of the immensely popular study guide. This study guide includes 3 full-length practice exams that reflect the exam, as well as up-to-date resources for COVID-19 Exam Disruption. Also, students have access to a robust online platform and hundreds of practice exercises with thorough answer explanations.
This study review guide also provides a self-guided study plan including flashcards, games, and online tools. The book is written in plain, easy-to-understand language, making it perfect for those students who are intimidated by the typical "physics speak." It is tailored to the new college board's focus on conceptual understanding, rather than just math. It is recommended by AP Physics 1 teachers, as well as college advisors.
Pros:
Highest reviewed study guide on this list
Recommended by high school AP Physics teachers, college advisors, and university professors
Includes a self-guided study plan that contains flashcards, knowledge games, and online tools
Written in easy-to-understand language to reach students on all academic levels
Intended to act as a supplement to the AP classroom in this hybrid school year
Cons:
This product has a "multi-platform" model, so not all of the information is in one place
AP Physics 1 Essentials is an easy-to-read guide to the entire AP Physics 1 course, featuring more than 600 worked-out problems with full solutions and deeper understanding questions. This study guide covers all major topics included in the AP Physics 1 course, including kinematics, dynamics, momentum, impulse, gravity, uniform circular motion, rotation, work, energy, power, mechanical waves, sound, electrostatics, and circuits.
AP Physics 1 Essentials is integrated with the APlusPhysics.com website, which includes online question and answer forums, videos, animations, and supplemental problems to help students master the essential concepts of physics.
This book is designed to assist physics students in their high school AP Physics 1 course, both as a guide throughout the course, as well as a review book to assist in end-of-course exam preparation. Its focus is on providing the bare bones, essential concepts necessary for success in the course in a straightforward and easy-to-read manner, leaving the development of in-depth problem solving and lab work to the classroom, where it is most effective. In short, this is not intended as a substitute for a standard textbook or course, but rather as an invaluable supplementary resource.
Pros:
Written by an AP Physics 1 teacher, as well as the director of APlusPhysics.com
Recommended for students who struggle with AP Physics 1
Written in simple language that is easy to understand
Book is compact and easily transportable
Cons:
Most of the "teaching" is done through the practice problems, rather than concept review
Explanations are unclear and sometimes misleading, some topics are oversimplified
Fewer practice questions than others on this list
4. Sterling Test Prep AP Physics 1 Review
Sterling Test Prep AP Physics 1 Review aims to prepare students to achieve a high score on the 2021 AP Physics 1 exam, by developing the ability to apply learned knowledge and quickly choose the correct answer. Solving targeted practice questions builds understanding of fundamental physics concepts and is a more effective strategy than merely memorizing terms.
This book has more than 735 high-yield practice questions covering all 2021 AP Physics 1 topics. Physics instructors with years of teaching experience prepared this material by analyzing the exam content and developing practice material that builds your knowledge and skills crucial for success on the test.
This study guide also provides detailed explanations describing why an answer is correct and, more importantly, why another attractive choice is wrong. It offers step-by-step solutions for quantitative questions and teaches the scientific foundations and details of essential physics topics needed to answer conceptual exam questions. Sterling Test Prep guarantees a higher score on the AP Physics 1 exam or your money back.
Pros:
Written by Sterling Test Prep, which has 30 years of experience preparing students for standardized tests
A multitude of practice questions and explanations to test comprehension
Contains a diagnostic test for students to gauge understanding
Written for both students doing well in the class and those struggling
Cons:
Not reflective of the updated exam questions (more conceptual questions than mathematical calculations)
Does not contain any Free Response Questions, but these appear on the exam and are quite difficult
Lacks AP-style practice tests that are found in every other book on this list
5. Barron's AP Physics 1 Review Book
Barron's AP Physics 1 Review Book provides an in-depth review for the AP Physics 1 exam, which corresponds to a first-year, algebra-based AP Physics 1 class. This study guide includes a diagnostic test that helps students identify and target areas where they need more study. Additionally, there are 2 practice tests that reflect the AP Physics 1 exam. Barron's AP Physics 1 Review Book also provides practice questions and reviews that cover all test areas.
On top of concept review and practice questions, this study guide also offers tips and advice for dealing with updated problem styles introduced on the 2016 test. Students who purchase this book also gain access to two additional full-length online practice AP Physics 1 tests with all questions answered and explained. These online exams can be easily accessed by smartphone, tablet, or computer.
Pros:
Includes 2 practice exams and a diagnostic test
Comes with access to 2 online practice tests and in-depth explanations
Information is organized by concept to facilitate information retention
Cons:
Not reflective of the updated exam questions (more conceptual questions than mathematical calculations)
Several errors in information found in this book
Frequently Asked Questions
What are some of the career paths available to me if I enjoy Physics?
The real-world applications of physics – an area of science that focuses on the interplay between matter and energy – are so numerous that it is difficult to imagine a technology that doesn't involve physics in some way. Physics degree recipients graduate with highly marketable skills in math, data analysis, and predictive modeling, often finding lucrative employment in the business world. When many think of physicists, they think of professors or lab rats. In reality, there are many jobs you can get with a B.S. in Physics, but the most lucrative employment opportunities for physics grads tend to involve either engineering or finance. Here are a few career paths you can take with a physics degree.
Astronomer
Business Analyst
Data Analyst
Engineer
Physics Researcher
Physics Teacher or Professor
Programmer
Project Manager
How can I use physics in my daily life?
Physics extends well into your everyday life, describing the motion, forces, and energy of ordinary experiences. In actions such as walking, driving a car, or using a phone, physics is at work. For everyday living, all the technologies you might take for granted exploit the rules of physics as well.
You can see the laws of physics at work in simple mechanical devices, such as a see-saw and slide at the park. The transportation industry uses Newton's laws of motion in airplanes, cars, and trains. Einstein's theory of relativity is at work in the GPS on your phone.
Even as you read this sentence, physics is at work. The eyes evolved in many species, harnessing the electromagnetic spectrum. The ears hear sounds that occur through the movement of air molecules. The chemistry that drives all of Biology, depends on the physics of energy and molecules. For example, daily, plants absorb sunlight, water, and carbon dioxide, creating glucose and releasing oxygen as a byproduct.
Not Prep for AP Physics 1? Read Reviews of Other College Entry Test Prep Books
Share on: