Best Medical Terminology Books of 2023
    11 Min Read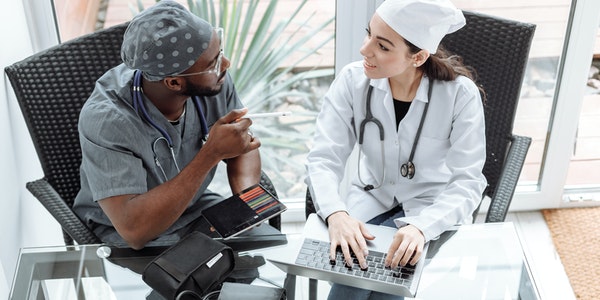 TheBestDegree.com is a participant in the Amazon Associates Program, Magoosh, and other affilate programs. We independently research, review and recommend the best products. We may receive commissions on qualifying purchases made from our chosen links to maintain the quality of the website with no extra cost to you.
Students typically take a medical terminology class as an entry-level course, where they must master the correct usage of terms relating to the human body, as well as the industry as a whole.
Understanding medical terminology is essential for a degree in any healthcare profession, but can often feel like learning a new language. Being fluent in the language not only makes your workday easier, but it also enhances the communication between you and your colleagues. Most importantly, thoroughly understanding medical terminology minimizes the chance of errors.
There are many professions, aside from doctor and nurse, that require the knowledge and use of medical terminology. While these are the most commonly known, students who study medical terminology also work as medical receptionists, clinical team leaders, quality assurance coordinators, medical billers, and medical transcriptionists.
No matter your motivation for choosing a medical terminology book, there is one on our list of the 5 best medical terminology textbooks in 2023 that fits your needs.
5 Best Medical Terminology Books for Medical and Nursing Students and Professionals
Medical Terminology: The Best and Most Effective Way to Memorize, Pronounce and Understand Medical Terms: Second Edition is an introduction into the world of medical terminology. Like most medical terminology textbooks, this one was written for college-aged students who are working toward a degree in a healthcare field. It is recommended for those who are studying medical terminology independently, as well as those who want a quick review of terms and concepts.
This book focuses on the readability aspect, which allows for an easy training guide and review. It is divided into chapters, and since the addition of multiple choice questions, the reader now has the possibility to practice and test what they have learned from previous chapters. The answers to these questions can be found at the very end of the book. By focusing on the important word parts — common prefixes, suffixes, and root words — the book goes to great lengths in simplifying the process of memorizing the medical language.
One of the cheaper options, Medical Terminology clearly and concisely lays out the terms, origins, pronunciations and meanings, in a way that is easy to understand. This textbook is the smallest and most handheld textbook of its kind, so it can easily be transported in a bag or briefcase.
Pro's
Breaks down words into their simplest form
Book is small and handheld, easily transportable
Information is concise and well organized
Low price point
Great companion tool for preparing for the MCAT and NCLEX exams
Con's
Book preview showed the prefix, root, and suffix labeled in different colors, but the book does not have these.
Terms are not alphabetized for easy access
No index to look up words quickly
Simplistic explanations that gloss over deeper themes for the sake of being concise
Medical Terminology: A Living Language is an introduction to medical terminology, written specifically for those going into a medical field. The information is comprehensive and easy to understand for an entry level college course. It is organized by organ systems to make it easier to follow and apply.
This book uses a carefully constructed learning system to help readers master medical language and apply this knowledge to real-world contexts. Rather than memorizing medical terms, students learn how to use word parts to build terms, within the context of basic anatomy and physiology.
The examples and practice problems engage the reader and apply the terms used to examples found in real medical records. This text is great practice for the aspiring healthcare worker and also makes a great future reference for healthcare workers throughout their careers.
Pro's:
No prior knowledge necessary to learn the material
The mock discharge summaries, containing the terminology in the chapter, are helpful for learning real-world applications.
Textbook organized by organ systems for easier understanding and application
Digital platform, MyLab, provides additional learning materials and study resources
Con's:
The chapter reviews require having to look up words that are not found in the text and beyond the scope of the book
Access to the digital platform, MyLab, must be purchased separately
Medical Terminology Systems: A Body Systems Approach, is a thorough introduction for those intending to join the healthcare field. The pages contain full colored text and pictures. The end of chapter review comes with answer keys for more independent learning. This text comes with an access code for practice and supplemental learning. Users have reported that it is a worthwhile investment.
The streamlined layout and full-color illustrations helps the student progress through the text step-by-step. Each chapter is broken down in a way that is easy to understand and teaches the reader how to best study the material for both comprehension and application.
Coverage of the text features all aspects of healthcare, including diagnostic and therapeutic procedures and a strong focus on anatomy and physiology, as well as pathology. Furthermore, every chapter includes complete medical records, word- building activities, and key terms.
Pro's:
Quizzes at the end are a useful tool for independent study
Gives the student tips for how to study the material
Information is well-organized
Online quizzes are an additional resource for learning and studying
Reading level is appropriate for all learners
Strong emphasis on anatomy and physiology
One of the most comprehensive resources for medical terminology study
Con's:
Several documented mistakes: both spelling/grammar and term meanings
Examples are sometimes given to a word instead of a definition, implying that it is specific to a region or organ system when it actually applies to other areas of the body
Frequent mistakes in the online quizzes as well
Several users found their codes did not work for the online lab
Medical Terminology: Get Connected helps students planning for professions in healthcare make connections between the medical terms and real world application. "Connections" is the name of the game with this textbook. Whether it's connecting word parts to make medical terms, recognizing the interconnectedness of body structures and systems, or communicating with colleagues and patients.
Frucht designed her textbook to be fun, accessible, and eye-catching. Medical Terminology: Get Connected guides students step-by-step through mastering relevant word parts, understanding word roots, and word assembly. This textbook is designed for introductory medical terminology courses. The flexible format includes features optimized for either lecture support or use as an independent workbook.
Through numerous exercises, tips, and colorful diagrams, aspiring healthcare workers learn meanings, correct spelling, pronunciation, and other relevant components of each term. With the authoring of this Medical Terminology: Get Connected!, Frucht aimed for students to learn to build, translate, and link medical terms with confidence.
Pro's:
Layout makes it easy to learn terms
Lighter than most medical terminology textbooks
Activities and exercises are fun and easy to follow
Con's:
Issues with Kindle app on Android devices
Quick & Easy Medical Terminology is less expensive than most other medical terminology textbooks. It comes in both paperback and Kindle versions, for those that want to reference this text on-the-go for a lower price point. This textbook is great for reviewing medical terminology as a healthcare professional or college student.
This book focuses on building word skills and is great for self study or a college course. Review exercises help test your knowledge and the examples of healthcare reports help to apply the terms in real world scenarios. Quick Tips throughout the book help keep it fun and educational.
The text focuses on disorders, diagnostics, and treatment, with a strong emphasis on anatomy and physiology. The information is presented in small bits, followed by a test for comprehension, using a combination of review questions. This edition includes new medical reports with review exercises that are similar to those seen in a clinical setting.
Pro's:
Less expensive than other texts
Option to buy it on Kindle and for a much cheaper price
Has review questions and scenarios that appear in clinical settings
Student has access to the companion Evolve site, includes games, activities, audio, and more
Review questions are a mix of programmed and traditional questions
Programmed learning allows for immediate feedback
Con's
Text has several spelling and grammatical mistakes
No in-depth explanation on roots of words and meanings
Answers have to be entered in exactly as worded for programmed learning for answer to be counted as correct
Medical terminology courses are studied by students from all walks of life, pursuing a myriad of career paths. Choosing a textbook that caters to your learning style, and meets your needs as a student, is the first step to being a successful healthcare personnel.
Already have medical terminology book? Read Reviews of Other Medical Test Prep Books
Share on: