Best 6 Accounting Calculators
    12 Min Read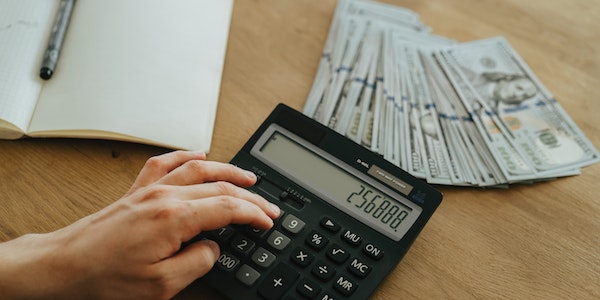 TheBestDegree.com is a participant in the Amazon Associates Program, Magoosh, and other affilate programs. We independently research, review and recommend the best products. We may receive commissions on qualifying purchases made from our chosen links to maintain the quality of the website with no extra cost to you.
While dedicated calculators might feel like a quaint relic of the past for many people, if you're a financial professional, taking an accounting class, or even managing the books of a small business, you know how important they can be. Even paid calculator phone apps can't recreate the ease of use that a good financial calculator can provide. Depending on the calculations you use most frequently and your price point, there are a lot of options to consider. This list is designed to highlight some of the best options in the field. Points like durability and battery life are also explored.
Perhaps you're a real estate professional and typically use equations related to mortgages and loan repayments. Perhaps you work in bonds and want a calculator that performs simple compound interest equations without much fuss. Or you're an aspiring MBA or accounting student and want a calculator that will grow with you and that you're allowed to take into the CFP or CFA museums. Or maybe you simply want a calculator to help you with your personal finances. Whatever your needs, you can find an option on this list.
The Best Accounting Calculators
The TI is an incredibly popular accounting calculator option second only to the HP (mentioned later in the list.) If you're looking for a calculator that simplifies financial calculations or want one for a business or accounting class, the TI is a great choice. It easily performs time value of money equations such as annuities, mortgages, leases, and savings. It also makes performing cash value analysis simple. Other calculations this calculator can perform are net future value, net present value, modified internal rate of return, internal rate of return, modified duration payback, and discounted payback. It has all the major equations an MBA or accounting student might want.
The calculator also has a durable metal exterior, firm touch buttons that avoid mis key mistakes, and rubber feet that hold the device steady on a surface. It turns off after five minutes of non-use to prolong battery life and holds the previous calculation in memory so users can jump right back in after they restart the calculator. If you are planning on taking the Chartered Financial Analyst exam, this calculator is a must as it is the most sophisticated calculator allowed. If you're looking for a more targeted financial calculator or don't feel confident with math, though, some other options on this list might be a better fit.
Pros
This calculator is allowed on the CFA exam
It performs time value of money calculations and other value calculations
The buttons are designed to prevent miskeys
The calculator has a durable metal exterior
The calculator won't shift when placed on a solid surface
Cons
This calculator is more expensive at $51
The screen is very delicate and liable to scratch or warp
Other calculators have better interfaces
This battery and solar powered calculator is great for general use and, at $13.99 on Amazon, very affordable. The large display makes it easy to read for users of all ages and there is a glare reducing screen than can be read in many settings. Large buttons help to avoid fat-fingered calculations and, since the buttons function like computer keys, make it easy to know when you've pressed it. The keys don't stick and make it easy to perform calculations fast. They are also purposely designed to hold up after years of heavy use. This calculator is durable, as well. It holds up well in an environment where it might be occasionally dropped. There is also a one-year full warranty for peace of mind.
This calculator performs basic functions including addition, subtraction, multiplication, and division. There's also a percentage button and a grand total button. There are basic memory storage buttons, as well. If you're looking for a simple and durable calculator for basic calculations, this is a good choice. Those familiar with adding machines will find this non-printing calculator a cinch to use. If you need a simple option for basic bookkeeping that anyone can use, this is a great option for you.
Pros
The calculator has dual battery and solar power
The buttons are easy to press and designed to hold up under heavy use
The calculator has a full one year warranty
The screen is very easy to read
The calculator is affordably priced at $13.99
Cons
This calculator has far fewer functions than others on the market
The layout may feel dated for younger users
This calculator is bulkier than other models
The HP is as close to a gold standard as you get for an accounting calculator. The 12CP is designed for financial professionals who need a heavy duty calculator. It's small, has a long battery life, and is Energy Star certified. It has the memory for over 400 steps and has more than 130 built in functions. The functions include time value calculations, interest rates, mortgage payments, loan payments, and standard deviations. The built in memory lets you perform calculations on more than 30 money flows. The calculator also features undo and backspace buttons for ease of use. It also supports both algebraic notation and reverse Polish notation. The 12CP is permitted for use on the CFA and CFP certification exams as well as the GARP FRN exam.
The calculator has a sturdy metal backplate that can be engraved. The layout is designed to be easy to use. There is also a website with plenty of resources for learning how to get the most out of the calculator. Financial professionals rave about the lightening quick processing speed. This is a much less math-y calculator than the TI BA, which is good for people who are doing strictly financial math.
Pros
This calculator is allowed on the CFA, CFP, and GARP FRN exams
It has the fastest calculation time in its class
The 12CP is Energy Star certified
The calculator has an engravable metal backplate
The HP is the only calculator on this list that fully supports reverse Polish notation
Cons
This calculator isn't as good for algebraic notation
More math-oriented people might not like the interface
The buttons reportedly wear out quickly
4. HP 10B II Plus Accounting Calculator
This calculator is less powerful, but simpler to use and cheaper than both the TI BA II and the HP 12CP. For students in a beginning business or finance class, this might be perfect. The calculator performs basic financial equations including standard deviation, compound interest, profit, and loan repayment equations. It also performs basic scientific calculator functions like exponentials, probability distributions, and trigonometry. There is a memory function that stores up to 5 numbers. The HP 10B 11 is permitted on the SAT, PSAT, and AP exams.
The keyboard is designed to be intuitive and easy to use. The display is crisp, clear, and easy to read. This calculator only supports algebraic notation and not reverse Polish notation, so RPN users might not care for it. The case is also plastic and less durable than other options on this list. Overall, though, this calculator is a good, affordable option for those beginning to dip their toes in the waters of financial math. Students taking a finance course among other college courses requiring a scientific calculator might like it, as well.
Pros
This is a cheap scientific calculator option
Great for financial beginners
Permitted on the SAT, PSAT, and AP exams
Offers basic scientific and financial equations
Cons
Does not support reverse Polish notation
Not appropriate for more advanced financial math
Less durable than other calculator options
5. Calculated Industries 3405 Real Estate Master IIIX For Accounting
Perfect for real estate professionals, this calculator performs complex financial equations in an interface that doesn't need a math whiz to operate it. This calculator allows you to compare loan types including 80:10:10, 80:15:5, ARMs, biweekly loans, and interest only payments. Dedicated function keys allow you to be confident about your results when quoting calculations to clients. The large memory allows you to permanently store things like property tax rates and property insurance rates, making it easy to give customized calculations. A built in date-math function also makes it easy to store things like closing dates and expiration dates.
This calculator is designed to be very portable and have a long battery life. A hard cover protects the screen and keeps the calculator safe from being damaged. A limited warranty protects the 3405 for one year. Real Estate agents swear by this calculator and it's also great for those looking to better understand their personal finances- with so many dedicated function buttons, it's way easier to use than most phone calculator apps. Math oriented folks and those wanting a wider range of calculations might find this model a bit wanting, though.
Pros
This calculator is great for real estate professionals
Interface communicates without math-laden jargon
Durable with long battery life
It has a built in date-math function
Memory allows you to store customized information
Cons
The calculator is of limited use to non-real estate professionals
Students with a math background may find the interface confusing
Wears out more quickly than other calculators
If you're looking for a basic financial calculator for your personal finances or if you're in a business class and want something that's easy to use, this might be the calculator for you. Users find the interface more intuitive as the large display shows blanks where the variables are needs in things like time value of money calculations. Future value and compound interest equations are a cinch with the Casio and you don't have to memorize as many calculations as you might with the TI or HP calculators. If you are planning on majoring in business, you might prefer a more standard financial calculator, though, as textbooks are generally designed for the TI or HP.
The calculators dual solar power lengthens battery life. While the large screen makes it easy to follow along and remember where you are in calculations, there are no commas to separate groups of zeros, like in 1,000,000. While this might not bother some people, for others it is enough of a stumbling block to make this calculator a no-go. This calculator also does not have a button for time value money equations. If you're looking for something low-cost and are willing to face a bit of a steeper learning curve, this is a great option.
Pros
The calculator has a large, easy to read display
Dual solar power prolongs battery life
Has a lower cost than other options
Great for future value and compound interest equations
Don't have to memorize as many equations to use this calculator
Cons
Calculator doesn't display commas, which is very difficult for some users
Many business textbooks are not optimized for use with this calculator
No button for time value of money equations
Share on: