Is Magoosh worth it and good for GRE?(2023 Review)
    15 Min Read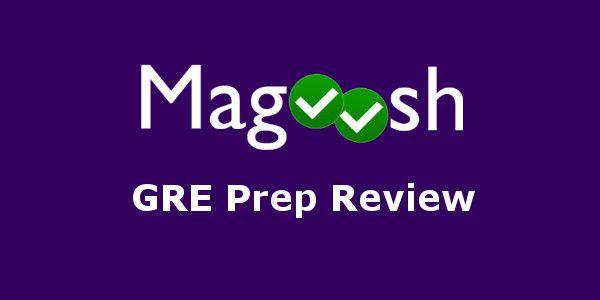 TheBestDegree.com is a participant in the Amazon Associates Program, Magoosh, and other affilate programs. We independently research, review and recommend the best products. We may receive commissions on qualifying purchases made from our chosen links to maintain the quality of the website with no extra cost to you.
If you're preparing for your GRE, you've undoubtedly heard about Magoosh GRE videos. Is magoosh worth it and good for GRE prep? Magoosh GRE course has seen phenomenal growth in the recent years. And there is good reason!
Magoosh is ranked #1 amongst the best GRE prep courses with nearly every possible GRE topic covered, along with scores of practice questions, math formula sheets, vocabulary flashcards, stellar customer support, affordability and other vital GRE-related stuff. It's undoubtedly a valuable option for students hoping to ace the GRE. The user-friendly features and streamlined dashboard, all make it stand apart from the competition.
Let's investigate further about Magoosh to know more about its pros and cons. We truly hope that our honest reviews let you evaluate a GRE course's pros and cons to help you decide the right course that fits your bill.
Pros of Magoosh GRE course
There truly is a lot to like about Magoosh. Besides being affordable, it offers a host of features that users don't get elsewhere. Here we review the positives in detail.
1. Truly Online GRE Learning
Magoosh GRE course is truly online in the sense that there's no DVD or hefty GRE book to lug around. All you need to do is login through a tablet/computer and you are good to go! Access your Magoosh course from anywhere and from any device. There's an intuitive dashboard to track your daily progress along with video lecture suggestions.
This polished online experience is designed keeping the user in mind. Even the customer support is live and ultra responsive. Everything right from the videos to mock tests are designed from the ground up keeping the online experience in mind.
2. Customizable Study Schedule
Whether you need a 6 month study schedule or the last minute 1 week prep, Magoosh has got you covered. The variety of study schedules on offer ensures that there's something to meet everyone's timeline for GRE exam. The checklists and study schedules are meant to keep students motivated through the lengthy exam process.
3. Affordable and Flexible Plans
There's no 'One-Size-Fits-All' GRE course that works for everyone. Some students excel in vocabulary while some do great in math or analytical writing. It's obvious that you may want to customize your course to focus on your weak areas while at the same time scoring high on the stronger sections. Magoosh lets you bundle all such strategies in affordable study plans offering you a high degree of customization at minimum cost.
The subscription plans are quite economical when compared to its competitors. The '1 Month Premium' plan retails at $149 and is a great option for last minute preparation. It is worth for students looking for last minute boost. The other plan is '6 Month Premium' at $179 and is a regular course that most students prefer. There's also the 7 day trial offer that lets you try all the features of the platform with no commitment and includes 20 questions and lessons. Here is a comparison of the plans.
4. Money Back Guarantee
There aren't too many GRE courses today that offer money back guarantee. Magoosh being different, and confident about its products, offers money back guarantee to users who aren't satisfied with your score. If you wish to try again, then Magoosh's GRE Premium plan has what you need. Just submit your previous score and subscribe. If you don't score 5 point higher compared to your previous score, they will return your money. Simple as that! What's more? Register for their 7-day free trial and then go for paid option.
5. Smart Review System
Magoosh has a "smart review system" which detects a user's progress as they go through the course contents. It will warn you about various aspects of your training such as weak areas, time left until your test date, which topics are pending and your overall preparation progress. The progress is displayed first thing on the dashboard when you login to your account. You even have an estimated score based on the course progress you have undertaken so far.
Magoosh practice tests are smart and adaptive – meaning they work just like the actual GRE tests. Your scores are compared to other test takers and tracks your learning curve. This helps you know what topic to take on next.
6. Huge Content Database – Questions, Tests and Videos
When it comes to practice questions and tests, Magoosh is right up there worth the best GRE courses offered today. There are over 250 lessons, 1200 questions and scores of full-length tests to keep you busy. The problems range from simple to complicated stress levels. There are also flashcards to help you with vocabulary. With Magoosh, you'll be studying latest, updated questions that match the GRE standards along with detailed analysis. The engaging videos are self-explanatory with detailed solutions to GRE grade problems.
The three full length practice tests help you become fully familiar with the style and format of the final test. It not only tests your ability to answer the questions correctly but also how effectively you undertake the test in real world environment.
7. Magoosh GRE Prep App
The highlight of Magoosh is for sure their mobile Prep app. It tries (and succeeds!) to create a desktop GRE prep experience for its users. There are practice test questions, 70 free video lessons, progress track function, 200+ lessons for premium users and various other study resources. This 'On-the-Go' approach to GRE preparation is the key value to today's generation. Besides, when you are serious about getting that famed 'acceptance letter', you are sure going to be studying whenever and wherever you get the time.
8. Magoosh Quizzes
After you complete a section, there are 5 to 10 minute quizzes that aim to test your retention. It is a quick way to test your memory power and how much you have learned in the previous videos. In case you answer three or more questions correctly, a green light flashes which means you have passed. If you wish, you can retake the quiz. This feature along with the flashcards make this platform a little more engaging compared to the competitors.
9. Stellar Customer Support
Magoosh provides very responsive 24/7 email customer support. Experts are always there to answer your queries about the platform and also respond to content related issues. Most of the concerns are resolved within 24-36 hours. This is at par with competitors like Manhattan, Kaplan and ETS.
Cons of Magoosh GRE Prep
1. Fewer GRE Practice Tests
Magoosh offers 3 free GRE practice tests to its users. Competitors like Kaplan and Manhattan now offer up to 5 real-life practice tests. This means students have less real-world test taking experience. Score evaluation too takes a back seat with such a limited approach. However, their mock tests are very much at par with GRE standards when it comes to the quality of questions.
2. No Live Tutoring
There are no personal 'one-on-one' live tutoring video lessons available. The videos at Magoosh are pre-recorded and you can access them anytime, anywhere. These are good for note making but the real-world experience of interacting with an experienced faculty is missing. The videos are quite thorough and you get detailed explanation for each question type. If you are looking for personalized coaching, you can check out the competitors.
3. No Essay Evaluation
AWA section can make or break your admission to prestigious colleges and universities. You can learn to write the analytical essay through the video section. However, Magoosh does not explain how to evaluate the essay. So, you have no idea how to evaluate the content you have written until you receive your practice test scores. Or you can take help of your English teacher!
Higher Score Guarantee – A Marketing Gimmick?
While offering a 5 point higher score guarantee, Magoosh relies totally on its video lectures. It is well known that GRE is much more than watching pre-recorded videos. The ability to transform the video knowledge into solving practical questions is what separates wheat from the chaff. Besides, there are more than 250 videos on the platform which can overwhelm the user. Instead, Magoosh should dedicate more effort towards gradual improvements in test scores.
Testimonials
Questions about Magoosh
1. Is Magoosh harder than the actual GRE?
A critique you will commonly find of prep courses, among those for any test, is that the course goes beyond what is necessary in difficulty of questions or scope of material. Often this is done in a well-meaning attempt to anticipate changing tests and air on the side of caution when promising students an effective, thorough prep. Overpreparing students is harmful though. The time and energy spent working through overly difficult questions or covering a subject unrepresented on the actual exam directly takes away from relevant study time.
Some students who review Magoosh's GRE prep course do claim that the questions were unique and harder than other courses they have tried, but also more effective at preparing them for the GRE exam. Magoosh's GRE content and questions are aimed at being as representative of the exam as possible. Magoosh does not claim to predict any new material, but instead bases their prep off of what they know about the GRE and the results of students who take their course.
It is important to consider that Magoosh's program continually updates as you use it to cater to your strengths and weakness. In other words, the representation of each subject and question is based more so on your performance than on the make-up of the exam. This will look like more time practice of what you find hard and less time going back over what you have mastered. So, after doing prep that emphasizes the topics and questions that challenge you the most, the test, which has a uniform, unbiased representation of all areas may feel less packed with difficult questions than your prep was.
2. Is Magoosh good and effective for the GRE?
The Magoosh GRE prep course includes video lessons, 1,200 questions with video and text explanations, and 3 full-length tests. To help students get the most out of these materials, Magoosh creates custom study plans based on the available time you enter. Magoosh also reviews each student's performance to estimate their score, compare their pace with the average student, and track progress. These analytics are a concrete way of seeing progress and making sure you are moving towards where you want to be for your test day. Magoosh also offers one-on-one support through email if you were to get stuck and need more individualized help.
Magoosh does have a smaller pool of materials than other GRE prep courses, which can make students doubt its thoroughness and effectiveness. Keep in mind, what they offer is still a complete review of the test material and comes with many supportive features and services that worth its price. The quantity of material in a prep course may not necessarily imply it is better, especially for every student. If you are short on study time, a larger question bank and more hours of review videos only means you may run out of time before completing the review. Magoosh offers a full review of material that will take less time to get through than other competitors. This can also allow for more time to go back and review the material more than once.
Bottomline – Is Magoosh worth its price?
No GRE prep is perfect. Student has to shop around after making enlightened comparisons to choose the most valuable course. To begin with, every student must review their goals, strengths and study requirements and then pursue the course. We aim to dispel the myths associated with popular GRE prep courses and provide a crystal clear review that helps students choose the best GRE prep course.
Magoosh's journey has been fascinating! Today, it rubs shoulders with the best courses for GRE prep by providing quality, efficiency and a valuable course. Their course content, quality of questions, adaptive full-length tests and student smart review all come together to deliver a comprehensive learning experience that matches live classroom coaching. Finally, it all comes down to interactive study platform and high quality study material. Magoosh combines both these aspects into an easy-to-follow course at an economical price. That's what has made it a popular choice among GRE test takers lately. Best of luck, and happy GRE studying!
Other Magoosh Reviews:
Share on: