Magoosh SAT Prep Review [Is magoosh SAT worth it?]
    11 Min Read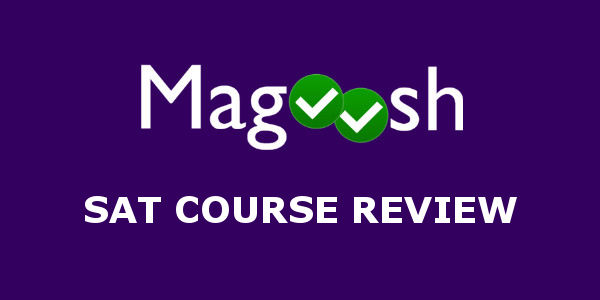 TheBestDegree.com is a participant in the Amazon Associates Program, Magoosh, and other affilate programs. We independently research, review and recommend the best products. We may receive commissions on qualifying purchases made from our chosen links to maintain the quality of the website with no extra cost to you.
Magoosh SAT prep course is the first name that strikes the mind when students discuss best SAT programs. Such is the brand value of Magoosh!
Magoosh is a relatively new name in the test prep realm, compared to established names like 'Kaplan' and 'The Princeton Review.' However, younger doesn't mean weaker in any sense. With detailed guides, extensive study material, well-researched content, effective strategies, and affordable pricing, Magoosh has claimed the top spot among the SAT prep course providers.
Let's explore the Magoosh SAT prep course in detail and see where it stands.
What Is Magoosh?
California-based Magoosh team is a highly dedicated team of SAT experts who excel in SAT preparation and guidance only. In their own words, they help students achieve their academic dreams. Magoosh's online-only course consisting of high-quality well-research material is a hit among students. Thorough video-based instructions, friendly support, and performance analytics ensure success.
They focus on the four-point SAT strategy, namely:
Academic content
Test-taking strategy
Mock exams
Student's motivation and confidence
Programs Offered – How It Works
Students can choose from four different programs, namely:
Premium SAT Prep program (12-month duration)
Premium SAT Prep program (3-month duration)
SAT Cram Course (1-month access)
As the titles suggest, the courses are differentiated only as per program duration. Depending on the course duration, students can avail of all the features, functionalities and services included in the test prep. Students can even try out the premium programs free for seven days. The Magoosh online study material bouquet includes:
More than 1,750+ practice questions
Over 200+ video lessons
Customized study schedule for optimum preparation
Quick quizzes on high-frequency topics
Three full-length practice tests
Personalized email guidance from expert SAT tutors
Individual progress reports for every student
Android and iOS mobile apps
Surprisingly, Magoosh guarantees that SAT exam veterans will achieve a 100 point improvement over their old score after studying their premium programs. That's a tall claim but certainly backed by statistics.
It's important to note that, if you've taken the SAT before, Magoosh guarantees you'll improve your old score by at least 100 points if you choose to enroll in one of the premium programs.
Magoosh Pricing – Is Magoosh Economical?
Being a video-only course, Magoosh can cut down on classroom costs significantly. No wonder it is one of the most economical SAT prep courses out there. All the four programs on offer are priced economically and offer great value for money.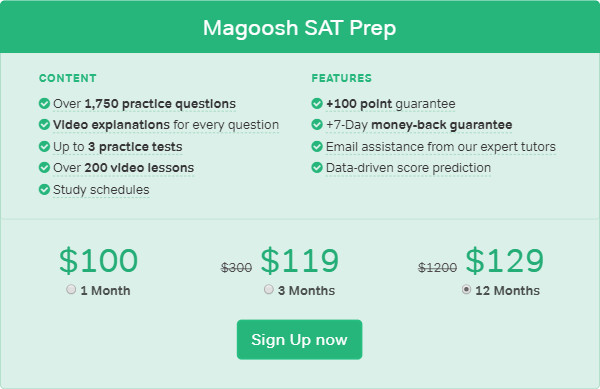 Magoosh Pros
Magoosh Dashboard
The dashboard gives users a glance at their activities and serves as the central place to access all the features. Student's performance statistics such as accuracy, test scores, current exercise are all displayed neatly. The intuitive navigation ensures every feature is within easy reach.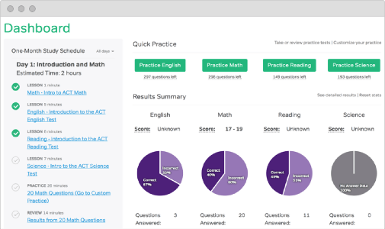 Video-Centric Learning
Online videos are the very foundation of Magoosh! It is an online-only, video-centric course where students learn by watching interactive video lessons. This makes it a great option for today's generation who learn on their terms anytime, anywhere. They aren't tied to strict classroom timings or location. The course features 200 video lessons and more than 1500 explanatory videos. Crisp, clear videos with conversational style lessons from an experienced teacher help students quickly grab the concept.
Individual transcript or every video ensure viewers don't miss a concept. If you find them annoying, you can hide them as well. Video lessons can be marked 'I need more review' or 'I understand' as you progress through the course content. Students will appreciate an associated video with every practice question. These videos go beyond just simple explanations and discuss detailed solutions along with alternative solutions. Shortcuts and tricks are also discussed in the same video.
Industry-First Score Guarantee
Every Magoosh program, from a 1-month to 12-month course, comes with a 100-point score improvement guarantee. No other course promises such a tall claim. Magoosh claims that if a student's score does not improve after studying any of their course, he/she can claim a full refund.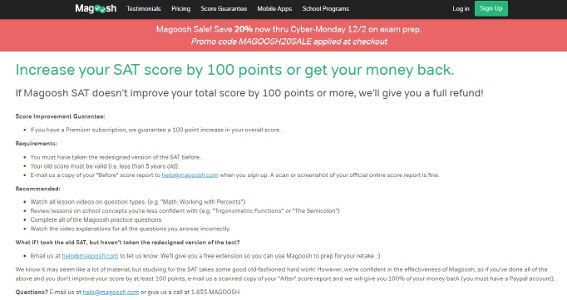 Online Notes
Your SAT notes are sacrosanct. They show your preparation level and are ideal for boosting the scores. Taking notes is an art, and Magoosh sure knows it. A dedicated space for notes is provided alongside each video lesson to students who can jot down their observations and maintain their notes right there. Notes are displayed in the dashboard area, as well.
The Review Page
A student's progress is displayed on the 'Review Page' so they can analyze what they've done so far. Questions and their attempted answers can be filtered according to difficulty, subject, and type. Combined with past performance summary, it makes it easy to recognize your weak areas.
Practice Tests
Three full-length practice tests on Magoosh deliver a real exam like experience to the students. These are designed just like the actual SAT exam pattern in terms of difficulty and question types. Additionally, students can also design their very own custom practice tests by selecting the question types they want to practice.
Quizzes
What is SAT prep without the short quizzes? Magoosh's short quizzes along the way help students consolidate their learning progress. There's an optional 'Timed Quiz' mode that examines a student's pace. Performance tracking further pushes students to match the high scorers.
Human Help & Personal Motivation
Help is always just a click away at Magoosh. Students stuck at a particular video, question or test can immediately send an email to an instructor to resolve their queries. A dedicated Magoosh tutor will reply with 24 hours. Moreover, each lesson is blended with a motivational approach that removes the stress and focuses on problem resolution. The process of solving questions is positive and encouraging.
Additional Resources
What's an SAT prep course without a little extra. Besides the quintessential study material and practice tests, Magoosh is a student's starting point for college guidance and other such vital stuff. Additional resources include SAT tips and tricks, shortcuts, and free lessons. Information on colleges, universities, admission guidance and international student guidance is included in the programs. Magoosh SAT flashcard is another popular add-on.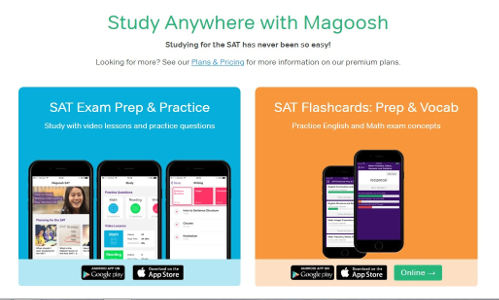 Cons of Magoosh SAT Course
No Classroom Experience
Not everyone loves online video lessons. Some students prefer the tranquility of attending a class regimen and clear their doubts with a personal tutor. Magoosh SAT course isn't built for them. There is no personal guided classroom coaching offered, in-person or online. The course is flexible, and a student can watch the videos on their own pace. Those looking for a conventional course with a structured classroom course should look elsewhere.
No Essay Grading
Online only courses usually have a downside – there's no actual instructor to grade the essays. Although Magoosh tutors do give essay writing guidance, there's no mechanism to submit your practice essay and have it graded by a professional tutor.
Relatively Limited Practice Tests and Question Bank
Every Magoosh SAT prep program offers three practice tests. The practice question bank features around 1500 problems. For some students, this can sound mediocre. Once you solve these, there's nothing left to do here. There are no exclusive SAT problems to move towards also. While it is unlikely that most students will digest all this course material, it is not uncommon to exhaust these questions.
Lack of College Board practice materials
Many students believe studying authentic College Board questions has its advantages. Though Magoosh test material is similar to the actual SAT content, it is still not the real thing. Fortunately, the College Board questions are available for free on their official website. Even the hard copy of 'The Official SAT Study Guide' includes SAT practice tests 1-8 and other vital genuine College Board questions.
Magoosh In a Nutshell – Conclusion
There's something about Magoosh that helps students achieve their dream SAT score. And that's the approach to SAT. The whole course is online, customizable, detailed, and encouraging. It's more about raising your learning curve rather than just mugging important concepts. Students can recognize and drill their weak spots.
The dashboard displays your strengths and reminds you of your progress daily. There's a sense of reward every time you log in. The practice tests, extensive study material, detailed video lessons, affordability, and flexibility of programs, all come together neatly to add true value to your SAT prep plan. Most importantly, it is economical and offers way more value than its competitors.
Here's a quick rundown on Magoosh and what all it offers:
Detailed, self-explanatory video lessons
Friendly, and fast expert help from experienced tutors
Well-crafted test-taking strategies
Customized study plan with supportive motivation
Vast and well researched academic content
Clear, intuitive dashboard interface for efficient progress
In-depth guidance, resources, and test information
If you are an over-scheduled high schooler looking for a flexible, independent, self-styled SAT preparation course, Magoosh ticks all the right boxes.
Frequently Asked Questions
Q. Is there a mobile app for Magoosh?
A. Yes, Magoosh has built a great, intuitive mobile app covering most aspects of SAT prep. And it is way better than other ACT and SAT mobile apps on the market. The lightweight app tracks your performance, offers ample questions, access to your Magoosh account, and much more.
Q. Does Magoosh offer a free trial?
A. Yes, Magoosh offers a 7-Day free trial course that gives students a glimpse into all the features and services. They have limited trial access to the question bank, videos, and practice material.
Q. Does Magoosh offer personalized SAT coaching?
A. No, there are no personal tutors, and neither are there any individual classes. Magoosh is an online-only video course that is self-paced meaning students learn through video lessons. However, students can contact an SAT tutor for their queries via email.
Q. What is the Magoosh Score Increase Guarantee?
A. Magoosh claims that its courses guarantee an increase in SAT and ACT scores. They claim:
4-point increase on the ACT
100-point increase on the SAT
Students must have taken an SAT exam in the past five years. Also, they must enroll in any of the premium Magoosh programs. If the student is unable to score as per their claim, they refund the money.
Other Magoosh & SAT Reviews:
Share on: