Best 5 Calculators for High School and College Algebra 2023
    14 Min Read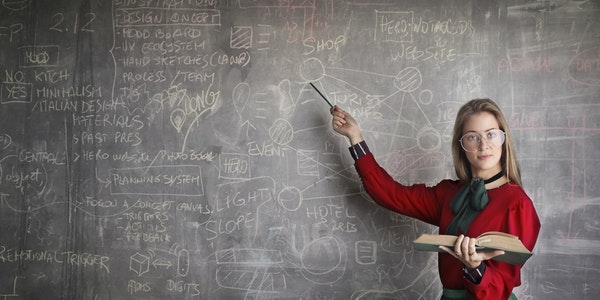 TheBestDegree.com is a participant in the Amazon Associates Program, Magoosh, and other affiliate programs. We independently research, review and recommend the best products. We may receive commissions on qualifying purchases made from our chosen links to maintain the quality of the website with no extra cost to you.
Because of the advanced level of calculations in algebra courses that you will perform in high school and college algebra, every student needs to have an advanced graphing calculator. However, with so many different calculators on the market, it's difficult to choose the best one that fits you.
The following list breaks down some of the best calculators for High School and College Algebra. Many of these calculators are allowed for use on other high-stakes tests. These calculators can also be helpful in other courses, and for most students, choosing the right calculator in high school means that it can travel with you and be used in college-level math and sciences and beyond.
The 5 Best Calculators for High School and College Algebra 2023
The first calculator on our list is one that many students are probably already familiar with, the Texas Instruments TI-84 Plus CE. This calculator provides modern and convenient features that make it above other models of Texas Instruments calculators. This model has a large, full-color display and the option of getting it in a wide variety of fun colors. Compared to past TI-84s, the TI-84 Plus CE has been designed to be lighter and thinner and quickly slipped into a backpack's side pocket. With a rechargeable battery that has extended runtime, this is a great calculator that can be used in any high school algebra course and is an excellent choice for college algebra. It is SAT and ACT approved graphing calculator for students interested in pursuing more advanced math. This calculator can also be used in many other science and math courses.
Pros
TI-84 Plus CE features has more memory at 3.0MB ROM and 154K RAM than other TI graphing calculators.
The TI-84 Plus CE has a large full-color display that supports images alongside all algebra calculations and graphing capabilities.
Charges conveniently with a USB cable.
Comes with different colors for customization.
Cons
TI-84 Plus CE features does not display complex algebraic equations and solutions as cleanly as calculators with CAS, such as TI-Nspire CX II CAS.
Not all models currently sold come with the ability to be programmed using Python.
TI-Nspire CX CAS II Graphing Calculator is Texas Instrument's top of the line graphing calculator. It has an impressive array of features, and you'll be hard-pressed to find a calculation this calculator cannot do. With 100MB of storage, the TI-Nspire CX CAS II can be used for every science and math subject – from algebra to calculus. This calculator features a full-color display, perfect for graphing multiple lines.
In addition, the TI-Nspire CX CAS II comes with the Computer Algebra System (CAS). This powerful feature is one that allows for the easy solving of complex algebra equations, displaying them in an easy-to-read manner.
Pros
Easily transfer algebra homework on the calculator to work on the computer.
The onboard Computer Algebra Software allows complex algebraic expressions especially working on challenging algebra problems.
The rechargeable battery life is expected to be around two weeks with normal use per charge.
The TI-Nspire connects with the Vernier DataQuest Application, which is used in many algebra courses.
Cons
Not all students might need the features the TI-Nspire has and might find the sheer amount of functions overwhelming, especially if they are only planning on using it for algebra and don't plan on taking any additional math or engineering courses in college.
Because of its added CAS feature, it is not allowed on all standardized tests, so check before buying.
Steep learning curve to using all the functions included on the calculator and the included software.
The student software comes with a trial, and many users have reported having to pay to continue to use the software.
The TI-89 Graphing Calculator does everything from calculating essential math functions to some of the most advanced calculations a calculator can compute. It is a great calculator for students who want to use one calculator throughout high school and into college but don't want all the extra frills that some of the newer calculators on this list offer. This calculator is a bit of an older model, but as a result, it is tested, tried, and true, and you'll find a wealth of resources on how to get the most out of your calculator.
This is also a great calculator for anyone considering work in statistics or engineering as it has many features specifically catered to those fields.
The TI-89 calculator also comes with an input/output port and cable, letting you sync up with other TI-89s or TI-92s and a USB port and cable. An attached, hard slide cover protects the calculator.
Pros
Packed full of features, including the ability to let you perform basic math, algebra, calculus, graphs, matrices, and statistical functions and create animations, graph 3-D rotations, and plotting contours. Graphing functions include basic function graphing, parametric graphing, polar graphing, sequence graphing, 3-D, and differential-equation graphing.
188 KB RAM and 2.7 MB flash memory for speed; plenty of storage for functions, programs, data
Can be updated and programmed with included USB.
Can be used on AP exams as well as SAT
Pretty Print feature makes it easy to read stacked notations and superscripts.
Cons
The TI-89 graphing calculator uses 4 AAA batteries. While it does have a long battery life, this could be a deal-breaker for some.
This calculator is not as standard as the other Texas Instruments calculators on the list. Some reviewers report that instructors and textbooks don't often include instructions for this calculator, so students will need to teach themselves how to use it. However, there are many resources directly from Texas Instruments and many individuals available online to get you the most out of your calculator.
While the TI-89 calculator can compete with other calculators in the high-end graphing calculator category, it is a black and white display that might feel dated compared to other calculators in the same price range.
This calculator is absolutely packed with features. If you are not planning on using this calculator for advanced work, those features might be wasted. What can be challenging is that because of the many features, it takes a few more keystrokes to do more straightforward calculations, which can be time-consuming for someone not comfortable with complex calculators.
4. HP Prime Graphing Calculator
The HP Prime graphing calculator might be a lesser-known graphing calculator and not as popular as Texas Instruments calculators but it seems that some of its impressive features are sometimes overlooked. It is both easy to use but also has an incredible amount of features. While it might not be a great fit for someone casually interested in math, it's perfect for the student who wants a calculator that they will grow into. It might have too many advanced features for a high school college course, but for college algebra, calculus, engineering, and beyond, it scales well.
Pros
It is completely programmable both through a computer and in the calculator itself, lending itself to lots of customization.
If programming isn't your thing, the calculator comes with a large array of preloaded applications that are grouped by usage/course.
The processor in this calculator is much faster than in competing products. The clock rate is nearly 500 MHz; the ROM and RAM are far larger than that found on any competitors' entries.
The calculator can be put into "exam mode" that disables the CAS, allowing it to be used on AP and SAT tests.
The HP Prime also has a robust but thin Design that's fairly lightweight. It also features a full-color screen with easy touch screen controls.
Cons
One challenge users report is that if something is mistyped, the HP Prime does not do an effective job with error messaging, with users complaining about the challenge of figuring out what exactly was mistyped.
This calculator is less popular than Texas Instruments calculators and so teachers might be less familiar with it and less able to support in learning how to use this specific calculator
The HP Prime graphing calculator has a lot of features with a significant learning curve. For users not planning on keeping the calculator for other classes, this might not be worth the investment.
A number of users state that this calculator might be overpowered for high school algebra courses. However, if a student has plans to continue their pathway in math and science, this would be a great investment in learning, giving them extra years of practice using it before they get to college.
5. Sharp EL-W516TBSL Advanced Scientific Calculator
The Sharp EL-W516TBSL 16-digit advanced scientific calculator is surprisingly packed full of features at its price point. It comes with a four-line display, is battery and solar-powered, and has seven different modes for a total of 640 functions. Its Write View display is particularly appealing because it allows users to see the expressions, fractions, and symbols they are entering the same way they would appear on paper. Like all the other calculators on this list, it is approved for use on a variety of algebra fields.
Pros
The Write View display is truly helpful for students needing to show their work when using a calculator.
This calculator has advanced scientific functions such as logs, trig functions, reciprocals, powers, and roots.
Test approved – can be used on ENGINEERS, SAT, AP, and IB exams.
Lots of features that most scientific calculators don't have such as being able to define formulas into memory and quadratic equation and cubic equations solvers.
Solar Hybrid model – uses solar in bright environments but has a backup battery in low light conditions.
Cons
While it has plenty of features, more advanced graphing calculators might be better suited for students taking advanced math and algebra.
Has a lot more features than your typical scientific calculator – if you're wanting a super basic calculator, this isn't it. But it's also not a graphing calculator.
Some users dislike that it defaults to showing remainders as fractions instead of decimals.
Some users feel the display could be brighter and note that even with adjusting the settings, it can seem a bit dim.
FAQs on Calculators for High School and College Algebra
What is the difference between High School and College Algebra?
While this can differ from school to school, and it isn't easy to compare all colleges and high schools to one another, one thing can be said about the differences between high school and college algebra and the pacing. High school courses generally have about 180 class days, while most college semesters have 30. College algebra classes are typically centered around instruction, leaving the practice to students independently. High school classes have a bit more time to go through content slower and generally allow for practice time in class.
When looking at high school algebra classes, the most common courses are Algebra I, Algebra II, and Pre-Cal. Based on the college, College Algebra can look more like Algebra I and II or be more for calculus readiness and look more like Pre-Cal. Regardless of the class format, calculators are generally required from day one.
What are Topics Covered in High School and College Algebra?
Again, this depends on the school and level and your course. Most high schools offer Algebra I and Algebra II as requirements for graduation. Algebra I covers all the basics of algebra, including expressions, systems of equations, functions, real numbers, inequalities, exponents, polynomials, radical and rational expressions.
Algebra II takes the topics in Algebra I and explores them on a deeper level, including linear equations, inequalities, graphs, matrices, polynomials, radical expressions, quadratic equations, functions, exponential logarithmic expressions, sequences and series, probability, and trigonometry.
Most College Algebra courses will cover topics that have been covered in Algebra I and II as well as Pre-Cal. College Algebra also includes the following units: polynomial and rational functions, Inverse functions, Exponential and logarithmic functions, Simple conics, Systems of equations, Determinants, Arithmetic and geometric sequences, and Binomial Theorem.
Where can I Purchase Calculators for High School and College Algebra?
Many of these calculators can be purchased at your preferred technology and electronics store as well as any other place you buy school supplies.
Read More Calculator Reviews:
Share on: