The 8 Best Dorm Room Safes in 2023
    14 Min Read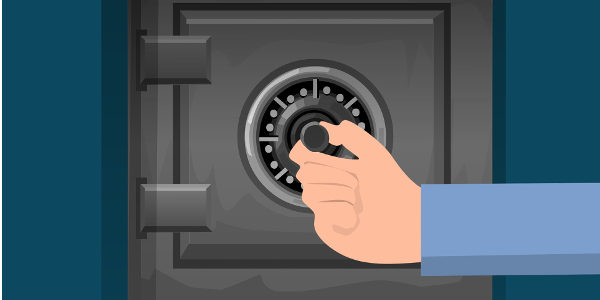 TheBestDegree.com is a participant in the Amazon Associates Program, Magoosh, and other affilate programs. We independently research, review and recommend the best products. We may receive commissions on qualifying purchases made from our chosen links to maintain the quality of the website with no extra cost to you.
Having established that a door room safe is essential, it should be noted at this point that there are always bests of creations and picking these bests is more often than not dependent on what the best creation has that surpasses all others that have been created prior to it. When talking about dorm room safes, the factors that crown them as 'satisfactory' can be streamlined to its ease and convenience when affixing it to a bed or dresser, the space available to contain valuables, locks and the hardware that makes it possible and many other factors that will be revealed on further study. These factors are the reasons why the dorm room safes to be listed below have been labelled as 8 best door room safe.
The 8 best dorm safes of 2023 to keep valuables
Starting off the countdown of dorm room safes is the AmazonBasics security safe box with a 1.2 cubic foot, 13 X 13 X 14.2 inches exterior and 12.8 X 10.6 X 14 inches interior. It equally contains a steel construction with scratchproof carpeted floor, a reprogrammable digital access and two override keys, an electronic lock with two live-door bolts and pry-resistant hinges, a removable interior shelf and a mounting hardware for bolting to the floor, wall or shelf.
In programming this amazing piece of work, the AmazonBasics security safe offers quick and easy operation. After installing four AA batteries (which are however not included), reprogramming the safe with your own unique password is what's left to do. To open the safe, enter your passcode using the keypad, then turn the knob clockwise to open the safe door. EASY?? Isn't it? This now pushes us to highlight the advantages this safe box provides.
The AmazonBasics Safe 1.2 Cubic Feet offers a great and affordable price for securing valuables. Organization is key and the features of this safe is such that there is a removable shelf that helps with organizing more personal belongings. The electronic locking mechanism provides a quick and reliable access. Security-wise, it has a durable steel construction that makes it difficult to drill through; the concealed hinges providing added security to the door making it hard to be opened with a prybar. Furthermore, the goal of every product is to have a wide customer base and this safe is one that receives great feedback and ratings from Amazon customers.
The disadvantaged part of this safe is such that the keypad doesn't have any backlight, making it difficult to be unlocked at night. Users are therefore advised to have a flashlight close by.
Next on the list is the Best College Dorm Safe V5.0 by Stealth. Remember the factors that should label a safe as satisfactory earlier referred to? Well, another of those factors is the limited space provided in dorm rooms and the presence of people going in out of these doorm rooms. This minute issue is one of the numerous reasons why this Stealth safe is one of the best. This safe has an inner dimension 18.5" H X 6.5"W X 12" D and outer dimension 20"H X 7"W X 14"D, 0.83 cubic feet volume and 40 lbs. Its prominent features are the vertical design made from real steel custom designed specifically for dormitory rooms, the addition of a UL Approved NL Electronic lock, access holes, three padded shelves and room for AC strips, and free high strength security cable.
The vertical design saves space and provides enough room for an 18" laptop. It is the only safe with a vertical design which makes it perfect for limited space. It can be conveniently made to fit into closets and under your desk. The presence of three rubbersized shelves is perfection when it comes to storing cellphones, watches and small valuables with ease. In the safe industry, it is considered the most reliable with 99.99% reliability. There is the presence of 4 pre-drilled mounting holes and a security cable in cases where it can't be mounted. The two access holes make it easy to fit a power cord for safe and secure charging of your laptop and other electrical equipments. Additionally, the review of this safe from college students are nothing but mindblowing remarks on how this upgrade surpasses all the others.
The cons, however includes the price of this safe compared to horizontal designs. While it is safe to say one is getting what they paid for, the price is also quite exorbitant compared to the others. Similarly, the fact that the battery can be quite tasking when it comes to replacement and in terms of locks there is no backup entry like a key override.
This safe features a lockable rolling storage container and plastic composition, high carbon steel lock with two keys, cart capacity of 50 lbs/23 kg, interior dimension of 13" and an exterior dimension of 26.5" L X 16.3" W X 5.8" H.
As expected, we will start off with the pros of this safe. An under the bed safe is hidden and simultaneously provides easy access to owners. It is ideal for college students who have limited personal space in college dorms. For increased security, the owner can decide to attach the safe to the bed frame with the included security cable. It has the ability to roll under the bed.
Cons of this safe are thus; it can only be used to secure documents, medications and certain electronics. The carabineer used with the fastening cable is not very secure and it is advisable for owners to purchase a small key lock. Also, this safe is not fire proof or water proof.
This safe protects your valuables and electronics by possessing solid steel construction, live-locking bolts, and digital lock with a key and a removable shelf. Its exterior size is 8.9 in H X 16.9 in W X 14.6 in D and interior size of 8.7 in H X 16.8 in W X 11.6 in D. It has a 0.98 cubic feet capacity and is made of solid steel.
While it can be said that the programmable electronic lock with override key keeps valuable secured and the solid steel pry resistant door protects against theft and unauthorized entry, the flip side is that in reality reviews and clips have been made by users to prove how it can be easily hacked into.
This item is shaped like a vertical rectangle made of hard grey and orange plastic. It contains two adjustable shelves which allow for flexibility. This safe is the perfect affordable option for all college students. The bracket on the bottom of the safe attaches to a variety of furniture and stationery items whether loft beds, bed frames or furniture posts. The pocket on the door allows for an ease of iPad and tablet secure storage. It is light in weight and easy to stash in a desk or under your bed. On the contrary, a little inconvenience have been attached to its size and inability to hold laptops, chrome book and iPads with cases. There have also been little complains as to the material it's made of.
This item weighs 20 pounds and is 15.4" W X 14.3" D X 6.6" H in its exterior and 12.8" W X 8.5" D X 4.4" H in its interior. The SentrySafe fire protection is UL classified to protect essential documents and valuables for up to ½ hour at 1550 F. It is EFL verified to protect flood or water damages for 72 hours of submersion. It is safe for digital files such as CDs, DVDs and USBs. Its privacy protection is with improved pick resistance accompanied with a spare. The storage sections makes things easily available and transportation is nothing but ease.
As thrilling as these advantages are, there is nothing better than reality check. This leads us to the cons. It has been shown that one can get trapped and not easily open the safe. There is also factory errors that does not comply with the heat and water resistance feature.
This safe is as tricky as it is effective. The sole aim just as the name implies is a diversion and a disguise and this doubles as its most prominent feature. Using the home dictionary diversion metal safe lock, it looks and feels like a dictionary but hidden inside is a locking safe with a combination lock to hide valuables. It includes a removable 5 slot cash tray and additional space underneath. It is easy to carry about and no better way of avoiding theft than with the perfect diversion. The users of this product have used words like "perfect" and "best product".
On the other hand, no provision for situations other than theft. It can be easily mishandled since more often than not it doesn't look like a safe and the durability is questionable.
This safe allows you to keep items whether tablets, cash, cell phones and laptops secure. It includes security cables to easily tether to stationery objects, durable handle that allows for easy transport, dual combination locks and mesh pocket for organization and storage. It is great for a diversion of opportunity theft and it is low priced.
Contrasting with what it can do, there is what it can't do. The combination lock doubles as a disadvantage as combination pads can be easily hacked by anyone even from a tutorial online. Lastly, the storage capacity is low.
How to Keep Valuables Safe in a Dorm Room
It is no cliché that not everything can be kept in banks. A dorm room safe as earlier hinted is no other than a strategic way of keeping valuables safe in a secure box against burglars and hazards in dorm rooms. These valuables may range from laptops to cash to jewelries to tablet to passports and it can be said to be the best way to keep valuables safe in a dorm room.
Conclusion
Despite the customer base line of a product, it must inevitably involve students be it college or high school and is one of dorm room essential. Without mincing words, this review has effectively provided a list so broad that has accommodated the preferences of a very large audience. All that is left for a college student to do is find out which one applies to him/her more and voila you have no problems with knowing how to keep valuables safe in your dorm room. Is it a valuable? Is it precious to you? Why not lock it? Have less troubles worrying about stolen items and have the best of your college experience.
Share on: