Where to find free GRE practice tests and resources?
    18 Min Read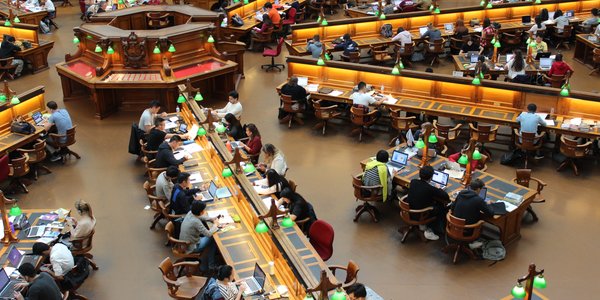 If you are planning to transition from undergrad to a graduate program, you are probably aiming for two things, a target GRE score and saving as much money as you can on costly test prep supplies. It is no secret that higher education costs quickly add up. Tuition, books, and test fees are just the start, so wanting to minimize the price of prep for standardized test is a regular concern. Luckily, there are plenty of resources out there designed to be affordable and accessible to all students. This way, you do not have to choose between an effective GRE prep and breaking the bank.
Free GRE Practice Tests
GRE practice test are great markers for your starting point and any progress throughout your prep. Taking a GRE practice test in the beginning of prep will help you to set a realistic target score as well as highlight areas of strength and areas that need improvement. In this way, an initial GRE practice test can guide your entire prep. Throughout your test prep it is highly recommended to take at least a second GRE practice test in order to assess improvement. This will give you confidence that your score is improving or notify you to change your approach if things are remaining stagnant. Whatever you find, the information from periodic practice tests is valuable.
Luckily, GRE practice tests are offered free of costs by many test prep companies. Some online resources will offer GRE practice tests for free, with no strings attached simply to supply students with helpful GRE prep material. Other companies will offer a free GRE practice test as advertisement for their for-purchase GRE prep material. While some practice tests are essentially made to recruit students for their GRE programs, they often are available with out any commitment.
If you are looking for free GRE practice tests, the following are some of the best options online to get your started!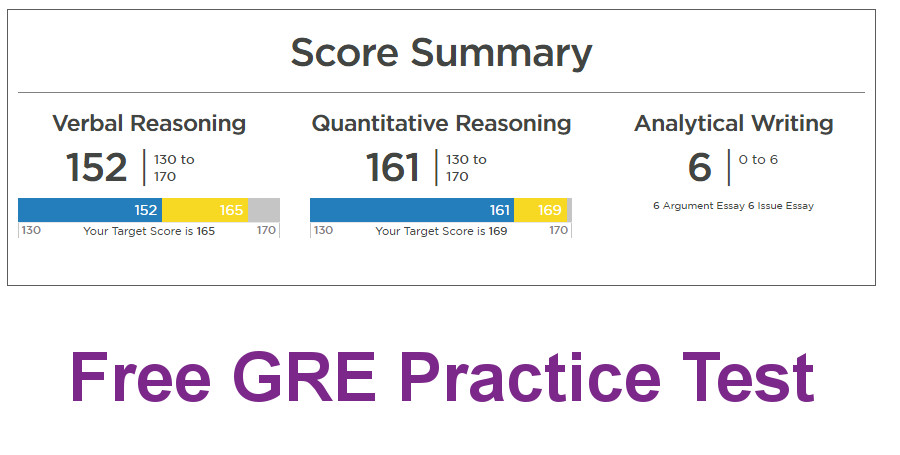 Magoosh offers a 40-question practice test that is followed by an answer key with answer explanations. Answer explanations are offered in video and text formats to walk students through where they went wrong and how to think about the question next time around.
While this practice test is not full-length magoosh provides a detailed overview of topic percentages which can be compared to a full-length practice test or the actual GRE.
Magoosh does not provide a score because of the shortened length. Calculating a score may not accurately align to what a student would earn on a full-length test. Magoosh refrains from giving a score that may be misleading as to what you would score on a full-length GRE test.
This GRE practice test from Kaplan is a great way to kickstart your prep. Kaplan scores the test and analyzes the results to show exactly where you are and what your current knowledge base is made of. This information basically outlines what your prep needs to look like from there! Kaplan also provides correct answers with explanations to get your learning started.
This is a full-length and should take four hours to complete. While it takes up a decent chunk of time, for all this insight, it is well worth it. Plus, the realistic test practice is a great addition to any GRE prep.
Manhattan prep offers a free, full-length GRE practice test that is designed to be true to the experience of the actual GRE. With every test, students receive a score complete with a personalized assessment of timing and areas of strength and weaknesses.
While these analytics will give you everything you need to start your prep, the practice with test format and timing makes this a great tool to use further into prep.
Every question is reviewed with answer explanations to help students correct their mistakes and develop understanding in time for their test.
The Princeton Review allows students to enroll in a free online GRE practice test that is based on realistic GRE conditions. This offers students valuable test taking practice and can ease nerves about what to expect on test day.
The Princeton Review will sum up every student's results in a personalized score report that highlights areas that need improvement and areas of strength.
Published by the Educational Testing Service, the makers of the GRE, these practice tests are as authentic as it gets. By looking at practice test put out by the ETS, students will not only gain practice with the test subjects, but the language, question types, and format of the GRE.
These GRE practice tests also contain information to help students become familiar with help tools that are available during the GRE.
If you want to avoid stumbling and losing time over technical issues or format related confusion, these practice tests are a must in your GRE prep.
Through McGraw-Hill students can find multiple free full-length practice tests to assess their current abilities and get comfortable with the online format of the GRE. McGraw-Hills begins students with a diagnostic test and follows with five more practice tests for further practice.
After taking the practice tests, McGraw-Hill provides students with problem solving videos to guide their review of subjects that need improvement.
McGraw-Hill practice tests do not only assess ability, but are paired with video content to support review and improvement where it's needed. The collection of practice tests gives students an opportunity to track progress as well.
The Mometrix website contains a 45-question practice test designed to help students gauge what subject areas they need to focus on most heavily during prep and which areas they are more prepared for.
Mometrix offers students lots of information on the GRE test itself, scoring, and preparation. This information makes Mometrix a great place to start your prep. If you have questions about the logistics or format of the GRE, what is considered and average score, how to prep, or what implications your GRE score carries, there is brief information here to get you started.
Both the information on this website and the practice test are a good starting place to clear initial confusion and set students on a well-fitted, more thorough path for their prep.
Online GRE courses instead of traditional nearby onsite GRE prep class
A prep course is one of the most structured and supportive options for any test prep. Prep course enable students with expert instructors, trusted prep materials, and personalized feedback. Unfortunately, with all those features, prep courses can also be the most expensive test prep option. A great way to cut the cost of a prep course is to take an online version rather than in person.

Magoosh is known for providing quality test prep materials at prices much lower than their competitors. Magoosh gives studenst access to practice tests, practice questions, score predictions, performance analytics, and 24/7 email support, among other supportive features.
Students can access the Magoosh GRE prep course by committing for a period of time or paying month to month, which offers great flexibility. With a free trial and score improvement guarantee, Magoosh is a safe investment towards a high GRE score.
The Princeton Review is well-known name in test prep with a solid reputation. When it comes to online GRE prep, Princeton Review offers the most options to choose from.
Students can choose from individual tutoring, self-paced courses, or online live instruction. The variety of courses from the Princeton Review supplies students with options on how to learn, but also offers prep materials at a range of price points.
The Princeton Review courses can be purchased with a score increase guarantee to make sure that however much you choose to spend, it is well worth it!
Kaplan's online GRE Prep course offers an impressive amount of materials for a price that is lower than most other GRE courses on the market.
Students can choose if they would like their course to be live or on-demand, but otherwise have the same access to materials includes over 5,000 practice questions, 7 full-length test, Kaplan GRE prep books, and more. If you choose to prep with Kaplan, the GRE course comes with a higher score guarantee which can ensure your money towards test prep is well spent.
Cheap GRE Books Less Than $20
GRE prep books provide study materials from trusted test prep companies or experienced test experts at a much lower price than a tutor or full-access prep course. If you are independent and self-directed, you may even find the flexibility and freedom of a prep book preferable to a more structured course or plan.
GRE prep books often include either subject review, practice questions and answers, practice tests with self-scoring guides, or some combination of these tools. Today, many prep books incorporate an online component as well that gives students to access features including further practice, automatically scored practice tests, and personalized assistance.
The addition of online features makes prep books more comparable to prep courses than ever before, while still at a lower price point. The following GRE prep books are all available for under $20!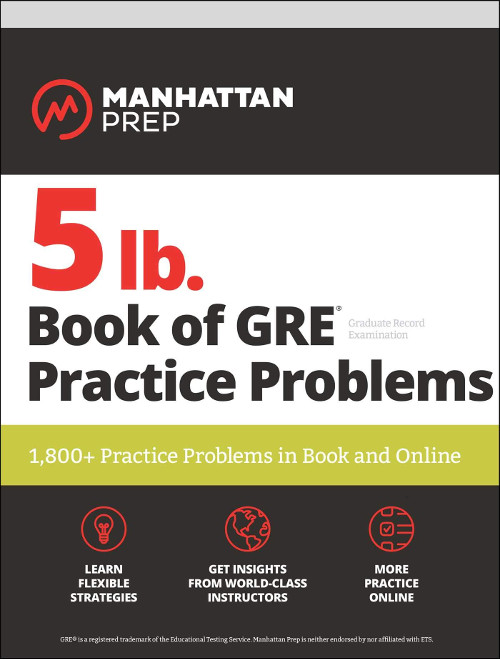 If you are looking to include plenty of comprehensive practice in your GRE prep, this book has enough to last your entire prep, with over 1,800 practice problems.
The Manhattan Prep 5 Lb. Book of GRE Practice Problems covers all GRE subjects and is grouped by topics that make it easy to focus your study sessions and find exactly what you need.
Not only do questions come with answer explanations, but also online lessons that explain concepts and walk students through practical application. If an answer explanation ever leaves you feeling like you need to brush up on a topic area, the online lessons provide all the information to do so! In this way, The Manhattan Prep 5 Lb. Book of GRE Practice Problems helps students not just practice, but review and learn where they feel weakest.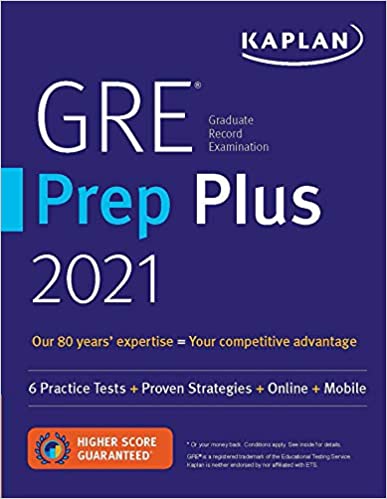 Kaplan's GRE Prep Plus is one book that packs an impressively well-rounded test prep. Within the Kaplan GRE Prep Plus are chapters of content review, practice questions, and test-taking strategies. Students also receive access to online practice tests and year-long access to Kaplan's online GRE practice and lessons.
The online tests are scored and reviewed by Kaplan's analytics to point out where you need to spend a little extra study time and in what subject areas your studying is paying off. The online questions can also be customized to filter out subjects and question types you are not looking to focus on. These two features offer considerably personalized studying for a prep book.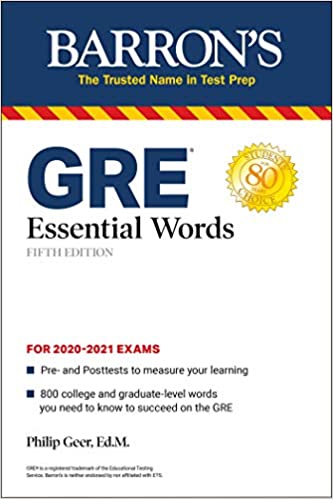 Barron's Essential Words for the GRE focuses on the importance of vocabulary to do well on the GRE. By familiarizing yourself with the language you will see on the GRE, you are less likely to get stuck, misinterpret what a question is asking, or become nervous while testing.
Barron defines 800 words that frequently appear on the GRE as well as examples of the context they are most often used in. In the case a word you are unfamiliar with appears on the exam, Barron dedicates a full chapter to breaking words down and analyzing their roots.
To give students practice and a chance to use new words, the book includes sentence completion exercises. A pretest and posttest are included to track progress. All practice and test questions are accompanied by correct answers so students can check their work.
Free GRE webinars
GRE webinars are online events that give students the opportunity to learn from an expert about the GRE. Often a webinar will be a brief meeting or discussion with a focused topic such as 'GRE Test Day Procedure,' or 'Verbal Strategies.' While these sessions are not long or broad enough to make up your entire prep, they are a valuable supplement where you feel you need extra review and guidance.
Kaplan offers frequent webinars focusing on specific sections of the GRE.
This is a great way to get extra review on a weaker testing area. Kaplan is recognized for their highly qualified instructors, so their webinars are a great chance to hear new advice and strategies to help you better understand material.
The Princeton Review continually puts out webinars on a variety of test prep topics. Princeton Review is one of the oldest and most well-known names in test prep. Their instruction is based off lots of experience with past students and years of GRE Experience. The Princeton Review often builds test prep around studying and test taking strategies over plain memorization.
If you are looking for productive test prep strategies or helpful ways to approach the GRE and test questions, The Princeton Review is a good resource to look in to.
Not only can you sign up for upcoming webinars, but The Princeton Review has an archive of old webinars posted on their website!
Twice a month Manhattan Prep holds GRE Prep Hour, an hour-long live session with a GRE instructor.
During this hour, a GRE instructor walks students through various GRE topics and answers questions from viewers. This is a great chance to get specific answers to tricky questions without paying for a tutor or prep course service.
If you can not make the session time or just want to catch up on past sessions, they are all posted on the Manhattan Prep YouTube channel.
Free Flash Cards & eBooks
Flashcards and ebooks can be great test prep resources for students who are busy and frequently on the go. Having GRE prep tools on your laptop, tablet, or even mobile device means you can make the most of bus rides, time in waiting rooms, or impromptu study sessions anywhere.
Flashcards and ebooks can also be supplements to prep courses or books. If you feel your prep was lacking in an area or just want extra reinforcement, these tools can be the perfect way to get a bit more study time in.
If you are a student, you are probably familiar with quizlet study sets. One of the best features of quizlet is that students can make their flashcard sets public, saving others the time it takes to make them and sharing the knowledge!
With so many students preparing for the GRE each year, there are lots of public quizlet sets ranging from general GRE vocabulary to specific section review.
Quizlet can be saved to your account so that you can return to them later. Quizlet can be accessed on desktop or mobile devices.
Magoosh has compiled all the most important GRE information from their blog in to one clear and concise ebook. This makes it much easier to get all the general information you need without wasting time flipping through narrower topics that are not relevant to you.
Magoosh's complete guide provides students with GRE information in a convenient format and all for free. The ebook covers GRE format, each section, test strategies, practice, study resources, and suggested resources.
With all this information for free, there is no reason not to download the Magoosh's Complete Guide and take a look.
An important part of being successful on the GRE is understanding the language used on the test. Insufficient vocabulary can lead to confusion, getting 'stuck,' or misinterpreting a question.
The Magoosh GRE vocabulary flashcards makes it easy to brush up on GRE vocabulary and solidify any new words you need to learn.
Magoosh allows students to choose a difficulty level and filter words down to those they need to review the most. All around, these flashcards make a time-efficient and effective study tool.
Share on: